Crush
(2008)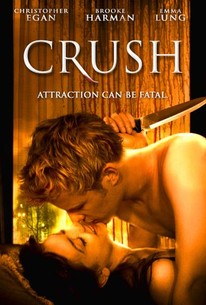 AUDIENCE SCORE
Critic Consensus: No consensus yet.
Movie Info
Exchange student Julian lands a posh job as a house-sitter in a sprawling mansion, but discovers that the job comes with a catch when he encounters Anna, a ravishing admirer with a deadly secret. Seduced by Anna, the former martial arts champion finds his efforts to sever all ties with the obsessive girl complicated by the fact that she appears to have supernatural powers, and she's using them to prevent him from ever escaping her grip.
Critic Reviews for Crush
All Critics (2) | Fresh (1) | Rotten (1)
House of horrors offers few shocks, let alone surprises.
This occasionally erotic supernatural thriller has one big thing going for it: it knows its audience, the young male market, and goes after it.
Audience Reviews for Crush
Every once in a while I stumble across a random movie on TV and watch it just because. I was channel-surfing today when I found this one on TMC (The Movie Channel). It's a decent low-budget thriller about an American student studying in Australia who gets seduced by a mysterious mentally unhinged girl while house-sitting for a rich family. Needless to say, the script by John V. Soto [who co-directed this film along with Jeffrey Gerritsen] wasn't very original [check the tagline..."Attraction can be Fatal"]. Some of the main plot points reminded me of "Swimfan" [which was basically an updated teen version of "Fatal Attraction"] and "Swimming Pool"...for different reasons, it's kind of ironic that the names of those two movies are similar. The film as a whole had a very American feel to it except for the ending which was obviously inspired by Japanese/Korean thrillers. I find it kind of odd that two people directed this...two people definitely weren't necessary, perhaps one of them dropped out in the middle of filming...which would explain why the film seemed a bit conflicted. Good cinematography by Richard Malins. Decent score by Jamie Blanks [who directed the horror-flicks "Urban Legend" and "Valentine"]. Good music choices by music supervisor Kim Green ("The Bank Job"), the songs used definitely made this feel like an American film. Great performances by Christopher Egan ("Home and Away", "Eragon", "Letters to Juliet")...he definitely sold me as someone whose life is crashing down around him, Emma Lung ("The Jammed")...she played a good psycho, and Brooke Harman ("Ned Kelly"). Good supporting performances by Christian Clark ("Home and Away"), Kane Manera ("Guiding Light"), Kerry-Ella McAullay, and Jenna Lind...she was the sexiest woman in this movie [it's a shame she didn't have much screen-time]. Overall it was an entertaining and somewhat compelling suspense-flick with a good twist [even though the build-up wasn't as effective as it could have been, in hindsight the twist was foreshadowed quite often], it's nothing special but it's worth a viewing if you're easily frightened.
Chosen 718
Super Reviewer
½
Can't quite decide whether to laugh or cry watching this. It's a film actually filmed here in WA, I wish I could say nice things about it. It starts off like a rip off of Malicious and Swimfan, and then somehow turns into The Grudge. We also have Chris Egan with a very bad American accent and some of the worst acting I have seen in a long time, and believe me that is saying something - I watch some bad films. I am just sad this had to be one of them. Best avoided.
Nicki Marie
Super Reviewer
Crush Quotes
There are no approved quotes yet for this movie.