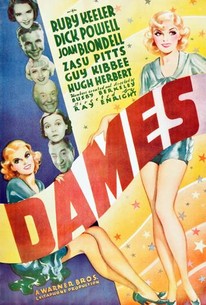 Dames
1934, Musical, 1h 30m
5 Reviews
250+ Ratings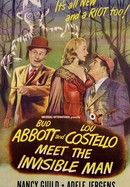 Abbott and Costello Meet the Invisible Man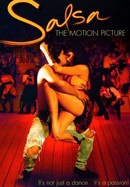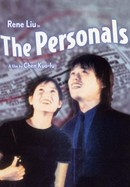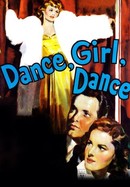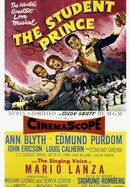 Where to watch
Rent
Rent/buy
Rent
Rate And Review
Movie Info
A chorus girl (Joan Blondell), producer (Dick Powell) and dancer (Ruby Keeler) put on a Broadway show. Choreographed by Busby Berkeley.
Audience Reviews for Dames
'Dames' is a bit like two movies in one - the first, the drab build-up to the second, with a millionaire played by Hugh Herbert giving his money away to relatives under the condition that they lead moral lives. Herbert is horribly miscast and in several goofy, groan-inducing scenes. The only bright spots in the first hour of the 91 minute film are Dick Powell singing "I Only Have Eyes For You" on a ferry to Ruby Keeler, with older couples looking on, and the always-fun Joan Blondell, whose character scents a possible gold mine. On the other hand, the 'second movie', that last half hour, is brilliant. Here the incomparable Busby Berkeley takes over, and gives us several enchanting musical numbers. You'll have to ignore the fact that there's no way these performances would fit on a stage which is the premise, but who cares. The Joan Blondell led washer-woman number "The Girl at the Ironing Board" has some fun special effects, with clothes moving on their own, and segues briefly into music from Mendelssohn-Bartholdy and Saint-Saëns. "I Only Have Eyes for You" is then reprised, with Powell singing to Keeler again, this time with people disappearing from crowded places and Keeler's face replacing other women's in advertisements to mirror the lyrics. It then segues into a wild dream sequence with an ensemble dancing about with giant cutouts of Keeler's face, sashaying around on giant stairways (one of them circular), and reassembling the poster of her face in puzzle-like fashion brilliantly by folding over the backs of their dresses. Berkeley then uses camera tricks to have Keeler appear out of her own eye and become miniaturized again onto the back of a mirror before waking up. Powell then romantically carries her across deserted train tracks. It's fantastic, and whatever you say about Keeler's dancing (which does leave a lot to be desired), she's charming in this performance. The title song "Dames" is then sung by Powell, with wonderful tight shots on pretty faces, followed by a dance number with the dames (er, women) waking up, bathing, applying makeup, and then going in to the movie studios to perform numbers which make beautiful geometric patterns with their legs while shot overhead, among many other things. You have to youtube some of these to see the genius and creativity of Busby Berkeley. It's unfortunate that the title was "Dames", based on the song of the same name, with the borderline-ugh lyrics like "What do you go for, go see a show for? Tell the truth, you go to see those beautiful dames", when it could have been "I Only Have Eyes For You", with romantic lyrics like "Are the stars out tonight? I don't know if it's cloudy or bright, 'cause I only have eyes for you, dear", which would inspire countless covers over all of the decades to the present. It's also unfortunate that the movie was made after the Hays code was in effect, with the result meaning that one of the musical numbers didn't make it to the screen, as well as (apparently) Blondell inviting everyone to see her cat with the line "come up and see my pussy sometime". It's a hard movie to rate and far from perfect, but "I Only Have Eyes For You" and the musical numbers by Busby Berkeley are wonderful and carry the day for me.

Textbook Busby Berkeley musical starts off slowly and actually is a bit trying but once they get the inane plot out of the way and hit the stage it becomes a sort of bizarre fever dream. Joan Blondell is as saucy as ever but Ruby Keeler's appeal mystifies today, she's pert but a rather graceless dancer, her main claim to fame, a singer of no distinction and a gee golly kind of actress so saccharine you almost feel your teeth hurt.

While it starts off a little slow (what do you want it's 1934), it finishes with a delightfully giddy third act. Busby Berkley is as insane and amazing as you've heard (and if you haven't heard, you have now). Extra kudos for the dancing underpants scene and the titular final song.

Great early musical. The "I Only Have Eyes For You" number is really something.
See Details