Damsels in Distress
(2012)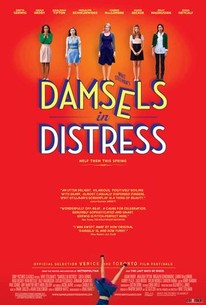 TOMATOMETER
AUDIENCE SCORE
Critic Consensus: Damsels in Distress can sometimes feel mannered and outlandish, but it's redeemed by director Whit Stillman's oddball cleverness and Greta Gerwig's dryly funny performance.
Damsels in Distress Photos
Movie Info
Whit Stillman's Damsels in Distress is a comedy about a trio of beautiful girls as they set out to revolutionize life at a grungy American university - the dynamic leader Violet Wister (Greta Gerwig), principled Rose (Megalyn Echikunwoke) and sexy Heather (Carrie MacLemore). They welcome transfer student Lily (Analeigh Tipton) into their group which seeks to help severely depressed students with a program of good hygiene and musical dance numbers. The girls become romantically entangled with a series of men-including smooth Charlie (Adam Brody), dreamboat Xavier (Hugo Becker) and the mad frat pack of Frank (Ryan Metcalf) and Thor (Billy Magnussen)-who threaten the girls' friendship and sanity... -- (C) Sony Pictures Classics
People Who Like this movie also like
News & Interviews for Damsels in Distress
Critic Reviews for Damsels in Distress
Audience Reviews for Damsels in Distress
I watched half an hour and couldn't take any more. That old time style of talking really grates on me and is part of the reason I don't enjoy period films. This isn't even a period piece despite its retro look. Quite disappointed. I like Greta Gerwig generally, and this looked like it would have potential. Nope.
Nicki Marie
Super Reviewer
½
This movie strikes a tone that few before it have, and presents a undergraduate environment as one in which people aren't who they seem to be and are always putting on airs to disguise their weakness of spirit, morals or intellect. The ending was wacky and I couldn't get my head around it, but for most of the film the characters and the conversations were interesting despite the uncommon language they used. The film is full of little ironies and the characters hypocritical, and yet, it doesn't come off as satirical; in fact, I found I could relate to it, more than five years after finishing my BA. The cripplingly good intentions are something to behold, as is the self-obsession and projection, but what's remarkable about the movie is that it's still all rather happy... and not in that saccharine or hollowly nostalgic way that college movies usually are; I genuinely liked these characters while simultaneously watching them be repulsive. A solid story of anti-heroes that would play well with fans of HBO's Girls or Sex and the City (the TV series, not the cheap cinematic cash-ins), and a film that can generate a lot of discussion about altruism and whether or not it's completely dead. Worth checking out, if only because no two people will read it the same way.
Daniel Perry
Super Reviewer
½
Two people who are no better suited to work together. Independent filmmaker and actress Greta Gerwig and legendary script writer and director Whit Stillman unite for his first film in thirteen years, and his first recognized film in some twenty. Both of them have been delightful in most films they make, and as both of them linger in the obscure, young, and bourgeoisie, it's only fitting that they came together and made a film together. What's kind of baffling is why Stillman is coming back to films now, and why he decided to make this film of all things. At least in his coveted and award nominated "Metropolitan" he was speaking about a kind of people that actually existed, who he as a young man had met. Those people were as strange and high minded as some of the characters here, but they had an element of greed, naiveté, and true agency. This is definitely of a completely different element, flaunting eccentricities and quirkiness over realism. While his earlier work blossomed formerly lonesome characters into greedy socialites, here he is talking about a generation he doesn't know about and doesn't connect to. Gerwig doesn't help in the matter either, deciding to be odd in lieu of developing any character. The film follows a group of college girls, with the affinity of fifties' debutantes, and plants them into the world of college without showing much outside of social forays, and not realistic ones either. Most of what is charming and offbeat happens when the characters stop trying to hide themselves in their quirky personalities; when the layers of strangeness are peeled back and we see the depths of the characters' struggles and want to belong. That and the jock humor, which realizes a new level of dumb and destructive. Violet's (Gerwig) desire to start a dance craze, help suicidal people, and her love for idiots, gained nothing and didn't further the plot along, which ruined all the buildup she had managed throughout the film. I would say that the only performance that wasn't odd was from newcomer Analeigh Tipton ("Warm Bodies") as the outsider who takes this all in. I don't understand those who find this trilling, light as wind chimes, when it's too obvious and comes off more like a timpani.
Spencer S.
Super Reviewer
Damsels in Distress Quotes
| | |
| --- | --- |
| Violet: | The scent... in this soap... is what gives me hope. |
| | |
| --- | --- |
| Violet: | For someone who is suicidal, like Priss, that can be a real boost. |
| Priss: | Oh, I'm not suicidal. |
| Violet: | Oh, that's good. I think it's best not to identify as a suicidal person, don't you? |
| | |
| --- | --- |
| Lily: | What the world needs to work properly is a large mass of normal people. |
| | |
| --- | --- |
| Mad Madge: | What do you think you're doing?! |
| Mad Madge: | What do you think you're doing? |
| Violet Wister: | I'm sorry, did I disturb you? |
| Mad Madge: | Why are you wearing tap shoes? Are you out of your mind?! |