Roald Dahl's Danny, the Champion of the World
(1989)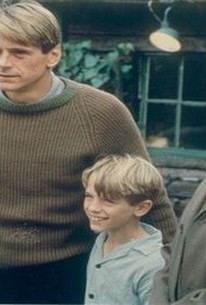 AUDIENCE SCORE
Critic Consensus: No consensus yet.
Roald Dahl's Danny, the Champion of the World Photos
Movie Info
A father and son (Jeremy Irons and real-life son Samuel Irons) work to thwart a developer's plans to change their village. Hazell: Robbie Coltrane. Doc Spencer: Cyril Cusack. Lord Claybury: Michael Hordern. Mr. Snoddie: Lionel Jeffries. Robbetts: Jimmy Nail. A.k.a. "Danny, the Champion of the World."
Critic Reviews for Roald Dahl's Danny, the Champion of the World
There are no critic reviews yet for Roald Dahl's Danny, the Champion of the World. Keep checking Rotten Tomatoes for updates!
Audience Reviews for Roald Dahl's Danny, the Champion of the World
½
Young Danny Smith has a life that could be described as idyllic - he lives with his father in a gypsy caravan behind his father's garage and he knows his way around a car engine. Unfortunately, there are two flies in the ointment in his happy lifestyle. The first is that his father's garage is slap bang in the middle of local landowner Victor Hazell's land and Hazell wants it... by fair means or foul under the pretence of setting up a premium site for pheasant shooting. The other problem for Danny is that the school term has started and the new teacher is the strict discplinarian, Captain Lancaster, who practices corporal punishment. When Hazell ramps up his efforts to get hold of his father's garage, Danny has to come up with a plan that will stop Hazell and become the "Champion Of The World" whilst avoiding the punishments being meted out by Captain Lancaster. As this film is based on one of Roald Dahl's children's stories, inevitably the main lead actor is a child and Danny is portrayed in a wonderfully innocent (in a not "child actor") way by Samuel Irons, son of actor Jeremy Irons who portrays Danny's father - which makes the believability of Danny and his father's relationship more concrete. The rest of the adult cast fall into two categories that you find in a Roald Dahl novel, or an adaptation of one his films - the sympathetic adults and the villains/disciplinarian types. I'll start with the villains and disciplinarians first. Hazell is portrayed by Robbie Coltrane and along with his sidekicks, portrayed by Jimmy Nail and William Armstrong, play their roles with pantomime villainy - bluster, hot air and underhand tricks galore - and they make a worthy set of villains to both Danny and his father. Captain Lancaster is portrayed by Ronald Pickup - and as much as Hazell is a blustering villain, Lancaster is well portrayed as the other "villain" in Danny's life. There are chilling moments (well, chilling for a "Universal" rated film) when Lancaster "canes" Danny as punishment for lying and he is a brooding threat throughout the film. The sympathetic adults, apart from Danny's father are varied and portrayed the cream of classic British acting talent, including Cyril Cusack as "Doc" (which you can probably guess is the local village doctor), Lionel Jeffries as Mr Snoddy the slightly tipsy school headmaster and Jean Marsh as Miss Hunter, a local council social worker. Everything in this film - the acting, the direction, the cinematography, the set design, in fact all departments - make for a film which helps you believe that it's the "ideal" 1950's post war Britain, where English villages are quiet idylls, it's always summer, sons have innocent hi-jinks style adventures with their fathers to get one over on the local bad guy and, predictably, they are the victors. It may not be everyone's cup of tea, but this film can make for a nice diverting Sunday afternoon film - especially in this cold weather!!!
Theta Sigma
Super Reviewer
For as long as books have been adapted into films, there has been a trend for taking off any rough edges to give said film a wider audience. There is a particular trend for giving downbeat books and plays happy endings, which more often than not cheapen the entire experience of watching them. Take the ending of Anthony Asquith's Pygmalion, in which Eliza Doolittle reconciles with Henry Higgins rather than escaping with the man she loves. Or the ending of Nicolas Roeg's The Witches, in which the main character miraculously turns back into a boy instead of remaining as a mouse. While no such act of heresy has been attempted with Danny, The Champion of the World, it remains a disappointing take on one of Roald Dahl's lesser-known works. It lacks the genuine sense of creepy darkness which Tim Burton and Henry Selick captured on their respective efforts, and is nowhere near as exciting as it needs to be to pass muster as a proper slice of family entertainment. The first big problem with this adaptation is the involvement of Thames Television at a production level. Couple that with director Gavin Millar, now most famous for Foyle's War, and you have something which resembles an early-evening ITV drama. This is not inherently a problem; to criticise a TV film for being televisual as every bit as obtuse as attacking a book for containing words. But it becomes a problem when the film has a theatrical release, even a limited one. Put up on the big screen this version of Danny feels cheap and ropey; it lacks even the earthy, gritty glamour of the best work of Handmade Films. The bigger problem which emerges from this is that the source material has been made more cosy and 'family-friendly'. The book may not have anything as twisted and strange as the Head Witch or the Cloudmen, but there is a more earthy darkness to it in both the danger faced by the central characters and the political undercurrents surrounding them. The book is to some extent a Robin Hood story, chronicling the small but significant victories of the poor commoners (Danny's surname is Smith) over the greedy and selfish rich. Danny's father justifies the act of poaching as a great tradition, something that was necessary after enclosure to keep alive those who had earned their crust at the expense of those who hadn't. The morality of poaching is never questioned, but neither is it never trivialised into being 'just good fun'. Unfortunately, the film doesn't completely avoid this trap. There are certain scenes of genuine suspense or something approaching this, the best being where Danny is driving the Austin 7, first to escape the police and later to rescue his dad. They are not directed with any kind of pizzazz, but the score provided by Stanley Myers keeps things moving along. But outnumbering these are any number of scenes which at best miss the mark and at worst dumb things down; the slow-motion shots of the pheasants falling are very cloying, completely spoiling the moment of triumph. Although the film is narratively faithful to the book, the script lacks the rich, syllable-stretching language we associate with Dahl. This is after all the man who gave the English language 'snozzcumbers', 'gnoolies' and 'vermicious knids'. But here all his wonderful neologisms seem to have been ironed out. Captain Lancaster, whose appearance is quite different to the book, is nowhere near as scary if he doesn't refer to cheaters as "guttersnipes and dandyprats". Here is still threatening, but in a more generic way, and hence is only memorable up to a point. Much of the acting is rather below-par, from a cast that reads like a who's-who of English character actors. Jeremy Irons reverts to his Brideshead Revisited mumble, so that we can either barely hear him or barely understand him. In the year before he won his Oscar, he is embarrassingly out-acted by his real-life son Samuel, who is generally likeable and matches Paul Terry's performance in James and the Giant Peach. Ronald Pickup and Jimmy Nail make the very least of their parts, and Robbie Coltrane is largely phoning it in as Victor Hazell. The one really notable performance is the social worker played by Jean Marsh, familiar to many younger viewers as the title character in the acclaimed Ghost Hunter series. As an exercise in straightforward adaptation, Danny doesn't seem to cut the mustard. But it does manage to partially redeem itself with some of its creative decisions which depart from the book. The script adds in a subplot about Victor Hazell wanting to buy up the land for the specific purpose of building a new town. The reason he needs the Smiths' garage is that their plot of land is slap bang in the middle of his new development. This is an interesting decision because it fits in with the themes of the book while putting a more personal stamp on the finished product. With this in place, the character of Hazell becomes more complex and conniving in his motives, and more heartless in his methods. The story becomes somewhat more akin to The Wind in the Willows, which has a huge subtext about the old ways of the English countryside being overrun by the creeping, steel-and-concrete shadows of modernity. From a 'family friendly' point of view, the idea of the whole town pulling together to be in on the 'heist' reinforces the theme of standing up for your friends. Much like Henry Selick's decision to exclude the Cloudmen from James, the film remains different in story but identical in tone to its source, and that is a promising achievement. Certain aspects of the set design are also quite quaint and charming. The Smiths' caravan is very nicely designed and decorated, and the interior scenes are well-staged and shot. It is very easy to be nostalgic about old cars and paraffin lamps, and the film doesn't attempt to force this nostalgia onto the audience as its main source of appeal. Oliver Stapleton lights the garage scenes quite well, giving us a sense of its scale and of the rudimentary upbringing Danny has received. Despite little moments or aspects which left the viewing experience, Danny, The Champion of the World is by and large innocuous, pedestrian and ropey. It's a half-decent slice of escapist viewing which will just about satisfy on a lonely weekend. But there is nothing about either the performances or the presentation which are memorable; it is too safe, too anodyne and too orientated towards broad viewership to properly capture the spirit of Dahl. Tim Burton's Charlie and the Chocolate Factory remains the superior Dahl adaptation (with Selick's James a close second), and nothing in this attempt can hope to challenge that.
Daniel Mumby
Super Reviewer
Roald Dahl's Danny, the Champion of the World Quotes
There are no approved quotes yet for this movie.