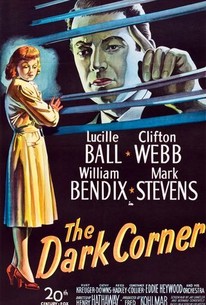 The Dark Corner
1946, Crime/Drama, 1h 39m
10 Reviews
1,000+ Ratings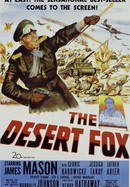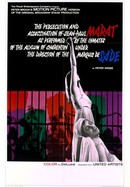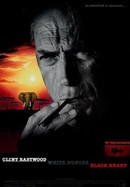 White Hunter, Black Heart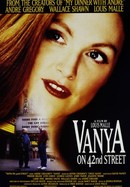 Rate And Review
Movie Info
When Bradford Galt (Mark Stevens), a tough private investigator, realizes that he's being followed, he confronts his assailant, a shifty fellow named Fred Foss (William Bendix). Galt's encounter with Foss leads to a web of intrigue involving prosperous art collector Hardy Cathcart (Clifton Webb) and his young wife, Mari (Cathy Downs). Soon Galt is in over his head -- but luckily for him, his tenacious secretary, Kathleen Stewart (Lucille Ball), is on hand to help him out.
Audience Reviews for The Dark Corner
Standard noir about a twice framed private eye (Mark Stevens) with all the usual suspects: the muscle (William Bendix), the brains: (Clifton Webb) and the beauty (Cathy Downs). The difference here is the curve: Lucille Ball. As secretary/love interest/eye candy to the gumshoe ... it almost seems as if her part were added on. Some trying-to-be-hardboiled-like-Dashiell-Hammett-would-write dialogue don't help none and often adds the unintended air of comic spoof of the genre, overcome in the closing third of the piece. Watchable one time.

Except for a few good dialogues, the movie has nothing in its favor. It's heavily predictable & short of twists for a film-noir, and lacks the execution that keeps you hooked in a thrilling crime drama. Avoidable as watchable.

i'm not sure if it's fair to say henry hathaway is usually a western man (sons of katie elder was great) but westerns are all i've seen of his work. kurt kreuger played a really slimy guy and he played the character of jardine so well that i did start asking myself whether he could be a slimeball in real life??? anyway, there's one big twist that i won't reveal. all the other players were good too along with lucille ball, mark stevens and clifton webb. it's no masterpiece but it's possibly the most solid as hell film noir thriller i've seen

A good little noir. I enjoyed getting to see Lucille Ball in a different light. She's good in this serious role. The private eye played by Webb doesn't seem all that great with his powers of deduction. Figuring out the mystery of who is trying to frame him takes a looong time. There appears to be a plot hole in the coincidence of the P.I. showing up at the art dealer's studio. Or maybe the filmmakers were trying not to be too obvious in putting the pieces together, since you never see the detective solve the mystery till it is too late. He's just stumbling through.
See Details