Dark Harvest
(2004)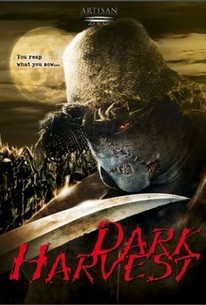 AUDIENCE SCORE
Critic Consensus: No consensus yet.
Movie Info
From director Paul Moore, the direct-to-video low-budget horror film Dark Harvest concerns a young man who, along with his friends, discovers a gruesome evil that had plagued his family for generations. Sean Connell thinks he's simply taking a trip to West Virginia with some pals so he can collect an inheritance. However, once they arrive at the family farm, they're confronted with a mysterious presence lurking in the woods that leaves a trail of death in its path. Don Digiulio, Jeanie Cheek, and Jennifer Leigh star.
Critic Reviews for Dark Harvest
There are no critic reviews yet for Dark Harvest. Keep checking Rotten Tomatoes for updates!
Audience Reviews for Dark Harvest
Pretty damn unwatchable, even by shlocky Z-movie standards. It also seems seriously unaware of the 5,000 slashers it blithely mimics, except on an infinitely turdier competence level. Anyways, the SFX suck balls, the acting is as wooden as can be and it's a criminally uneventful affair... so nope, Dark Harvest even fails to provide even the slimmest derisive laughter imaginable. Also : two sequels. What. The. Fuck.
Laurence Collin
Super Reviewer
HORRIBLE!!! I mean come on, WHAT is this? I'll tell you what it is! It's a bunch of wannabe horror filled with scarecrows that look human and victims who look like a bunch of retards. Oh boohoo Mr.Scarecrow, cry me a river! Sorry i wasn't dying of fear! Moreover, this was even funnier than most comedies in general seeing as how unrealistic it all is and the predictability of events is hilarious. And what's with the whole red eyes thing? That was awfully done, and it looked more like the scarecrow had an eye infection! Watch out for the opening credits! They're a real killer! I seriously had time to make myself coffee, walk the dog, read a book and dance a little jig, and I'm sure they'd still be running. Please avoid watching this! It's boring, it's horrible, it's absolutely despicable and the slaying scenes are laugh out loud funny.
Dark Harvest Quotes
There are no approved quotes yet for this movie.