Dark Touch
(2013)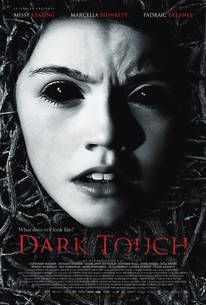 Movie Info
At night, an isolated house deep in the countryside takes on a monstrous life of its own. Objects and furniture run riot against the inhabitants, leaving 11-year-old Neve the only survivor of a bloody massacre that destroys the bodies of her parents and culminates in the death of her little brother, Ciaran. Suspecting a gang of homicidal vandals, the police ignore Neve when she tries to tell them about the murderous rage of the house. She is taken in by friends of her parents who, with the help of a local social worker, try to ease her trauma by surrounding her with love and rebuilding the semblance of a normal life. But Neve doesn't find peace. Far from it... All around her, signs of danger continue to manifest, and her surroundings remain imbued with a lurking violence that soon unleashes itself again, erupting into further slaughter and claiming more victims.(c) IFC Films
Rating:
NR
Genre:
Directed By:
Written By:
In Theaters:
On DVD:
Runtime:
Studio:
News & Interviews for Dark Touch
Critic Reviews for Dark Touch
Audience Reviews for Dark Touch
Maymay Asahan
Super Reviewer
Dark Touch is a good film that really puts in perspective into child abuse. The main girl is really good and you really feel bad for her for what's happening to her. The adults, oh man, that were hard to watch. They weren't badly acted, far form it, but it's because they use this stupid cliché that the parents don't believe her, and the kid tries to do something to make them believe them. Even though they use that, they kind of just stop using that cliché which I'm glad. Not only that, the adults are so rude to the main girl, that I felt no symphony for them. Maybe it was intended that way, but I don't know, it was really unpleasant to sit through. I wasn't scared, but I was interested in it. It's nice to see something go chaotic and when something was found out, I was surprised and they could use that for ideas which they do which is really nice. It even has a good ending which I felt relived after watching it. It's good, but the adults in this really make me mad and felt like they were too mean spirited.
Brandon White
½
This is a film that uses the horror genre to explore a very real-life problem, child abuse and the horrific effects that can have on the children that are victim of it. Horror can be very effective when focusing on fears that are rooted in reality and I think the film uses its subject matter in a very real and unsettling way. You get to see how years and years of abuse have taken their toll on Neve's psyche and how that affects her life going forward after her family's "accident". So I thought that was well-managed, but I did think that the pacing of the film certainly left a lot to be desired. Much like a lot of horror films, I don't think that there was enough interesting content to justify the film being as long as it is, and it really isn't very long at all. The film certainly spends a lot of focusing on the trauma that Neve feels after years and years of child abuse. But, at after a while, I was like 'ok, I get it, she's traumatized...can we get to the point please?' I think some people would justify it as getting to the psychological, and physical, effects years of abuse have had on her. And that's fine, a perfectly understandable point. But I still think a lot of it feels like a bunch of filler because there's just not enough material to justify the length. I did think the climax, however, to be excellent as I think it was the moment, while of course greatly exaggerated since it's a horror film, but the moment where you REALLY get to see the irrevocable damage years of abuse have had on her. There's also a lot of implied abuse in the film. Neve has this ringing in her ear every time something reminds her of her past. Nat, the woman who takes Neve in, also has the same ringing in her ear. The implication being that Nat has also suffered from abuse and that's why she's so protective of Neve. They never confirm or deny it, but it seems like a pretty logical conclusion to come to. The film doesn't really even have scares, it's just about the horror Neve faces as a consequence of the abuse she faced. And that's fine by me actually. It makes for a nice change of pace. There is gore, however. Not a lot of it, but it is there and it's pretty good. The acting is better than your normal horror film, but the girl who played Neve, who can cry on command like nobody's business, really isn't great. Her delivery really leaves a lot to be desired and I don't think she's good enough to carry something as serious as this. Of course, not that she has to carry it on her own as there're a lot of leeway with the horror genre, but I still don't think her acting was particularly good for such a serious subject matter. The film makes for a decent watch and it offers a harrowing look at the effects abuse can have on children. The problem lies in the fact that the pacing isn't particularly great and that the lead actress isn't good enough to carry the film. Still, this is a decent horror film.
Jesse Ortega
Super Reviewer
Dark Touch Quotes
There are no approved quotes yet for this movie.