Dead in the Water
(2002)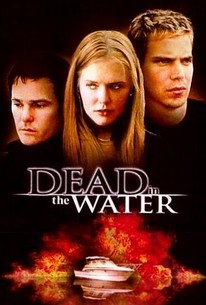 Movie Info
Young, rich, and randy Gloria (Dominique Swain) takes the family motorboat for some fun in the sun off the coast of Brazil. Along with her are her longtime boyfriend Danny (Scott Bairstow), his best friend Jeff (Henry Thomas), and the son of an important and infinitely influential client, Marcos (Sebastian DeVicente). It probably wasn't a good idea to take three gorgeous men the same age out on a boat with a bikini-clad beauty who lately has been questioning her relationship with her main squeeze, but it gets even worse than expected. There's tragedy, betrayal, and more tragedy as the faulty value systems of the wealthy brats spin out of control.
Critic Reviews for Dead in the Water
All Critics (5) | Fresh (2) | Rotten (3) | DVD (2)
Its unlikable stars are the kind of selfish twits that give selfish twits a bad name.
Dead in the Water is fairly predictable, but mostly entertaining.
"Dead Calm" by the way of a straight-to-video "Poison Ivy" sequel.
May 23, 2002 | Rating: 35/100
Audience Reviews for Dead in the Water
Crappy thriller. When a pretty rich girl, her boyfriend, friend and the son of her fathers loaded business partner go on a boat trip things go tits up when the son of the girls dads partner tries it on with her and ends up in a fight with the boyfriend, ending with him being thrown off the boat into the ocean and left alone. The three friends' relationships are put to the test as they work out how to get out of the situation as it appears the man they threw in the water can't swim. Dead in the Water is meant to be a compelling, powerful, twisty-turny thriller but is actually quite dull and fairly predictable with half arsed performances. It looks shit to, like something channel 5(or some US/European etc equivalent!) would put on on a Tuesday evening. The twist is crap to, you won't give a shit. Dominique Swain looks good though.
Dead in the Water Quotes
There are no approved quotes yet for this movie.