The Dead Pool
(1988)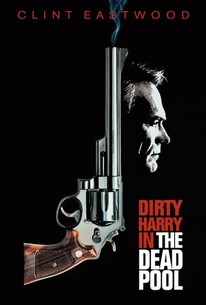 Movie Info
The Dead Pool is the fifth and (thus far) the last of Clint Eastwood's Dirty Harry movies. A sports pool is placing bets on which famous person will die next. Suddenly a serial killer who preys upon celebrities enters the scene, radically (and perhaps deliberately) changing the odds in the pool. As a celebrity of sorts, maverick cop Dirty Harry Callahan becomes a target of the killer, as does high-profile TV journalist Patricia Clarkson. Surprises are at a minimum in The Dead Pool; the film gets down to business quickly, moves logically if violently towards its climax (with a spectacular car-chase sequence thrown in for good measure), and delivers exactly what its fans expect. One major difference between this film and the earlier Dirty Harry epics is that the murders are committed in so outrageous a fashion that the picture seems at times to be a Freddie Krueger vehicle.
People Who Like this movie also like
News & Interviews for The Dead Pool
Critic Reviews for The Dead Pool
Audience Reviews for The Dead Pool
Another awesome sequel to the series. A stylish, gritty, exciting and exhilarating action-thriller. Just as good as the original, it packs wit and cleverness. A fun, fast, furious and adrenaline-pumping action-packed thrill-machine that kicks ass. A hard-boiled action flick that explodes with suspense and humor.
½
This is the fifth, and probably/hopefully/more than likely final entry in the long running Dirty Harry series. And it is a pretty decent swan song. After years of bringing a certain style of justice to the mean streets of San Francisco, "Dirty" Harry Callahan has finally become a sort of local legend of sorts. His level of fame however comes with a consequence, as he finds himself on a celebrity dead pool list, wherein people place bets on when celebrities in certain high risk professions will die. Matters are only made worse when the people on the list of schlocky horror director Peter Swan actually start to die, with Swan being the primary suspect, and Harry being damn near the next victim. I miss the days of heavy subtext that was really well done in the films of this series, but even though this film tries to make some sort of comment on the role of media and that sort of thing, I found myself really content to just sit back and watch Harry do what he does best, even if the film does have some rather silly moments at times, namely the Bullitt spoofing car chase involving an explosive RC car. The film might be kinda silly ,but it is a lot of fun, and definitely a solid attempt to put the series into the context of the state of cop movies at the time. As a nice bonus, besides Eastwood delivering as usual, we get early appearances from Liam Neeson as Swan, Patricia Clarkson as a determined reporter, James "Jim" Carrey as an ill-fated rock star, and cameos from various members of Guns 'N Roses. The performances are fine, the action is okay, and the film movies at a decent pace. It's not really a wonderful movie, but it's a decent end to the series, and does an alright job of picking the series up from the unfortunate low spot left by the previous film, which I found to be just really boring, albeit well intended. Definitely see this if you're a completist, or just in the mood for a standard Eastwood cop drama and also want some levity as well.
Chris Weber
Super Reviewer
½
Unless you happen to be a fan of the franchise, there's little less reason to sit through this one. Even if you are one, you may end up feeling really let down by the grand finale of the series. After 17 years, Harry is finally getting his 15 minutes of fame, having gained a celebrity status for putting a publicly despised crime-lord behind the bars. With everyone around admiring him, Harry does'nt get too many opportunities to be his usual exploding anti-bureaucratic self. Movie is stuffed with cardboard characters and some stupid pop culture elements that just does'nt go along with the legacy of the series. Movie really hits rock bottom with a desperate attempt to frame a new Dirty Harry expression, which goes - "You're sh** out of luck". Obviously it's no match for a "Well..do you, Punk?" or "Go Ahead, Make My Day".
The Dead Pool Quotes
| | |
| --- | --- |
| Harry Callahan: | If you want to play the game you better know the rules, love. |
| | |
| --- | --- |
| Harry Callahan: | When you kill a man you take away everything he has, even his shoes. |
| | |
| --- | --- |
| Harry Callahan: | Well, opinions are like assholes. Everybody has one. |
| | |
| --- | --- |
| Peter Swan: | You're blowing this out of all proportion |
| Peter Swan: | You're blowing this out of all proportion. |