Dead Space: Aftermath
(2011)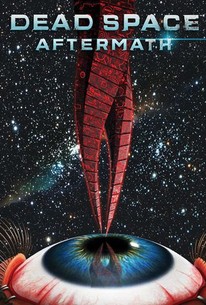 AUDIENCE SCORE
Critic Consensus: No consensus yet.
Dead Space: Aftermath Videos
Dead Space: Aftermath Photos
Movie Info
Experience the horrors that unfolded on the Aegis VII through the eyes of the four surviving crew members who witnessed sights that would drive the average person insane in this shocking sequel based on the sci-fi survival horror video game of the same name. The year is 2509. When Earth loses contact with the USG Ishimura and Isaac Clarke, the USG O'Bannon is dispatched to investigate. Soon, the signal from the USG O'Bannon vanishes without a trace as well. When the USB O'Bannon is recovered, only four crew members remain, and none of them can recall what happened to their fellow crewmembers. But the horrifying truth is about to be revealed, and when it finally is, space will never feel safe again.
Audience Reviews for Dead Space: Aftermath
The choice to switch between anime and (horrendous) CGI really did not help this film. The story was engaging, but the animation really took you out of world they were trying to create.
Lauren Scheier
This is what I get for watching a free film on Youtube. It draws you in with a handful of candy (candy being the video game franchise Dead Space) only to pull you into their van, have their way with you for an hour and a half, and throw you out on the outskirts of town. That is how I felt after watching this piece of dog shit of a movie. Not only that, but there were many other things that just made me shake my head saying, "What the fuck?" So this movie takes place after the events of the first Dead Space video game where ANOTHER military spaceship heads towards what is left of the decaying planet only to retrieve what's left of The Marker. Lo and behold they get more than they bargained for as the four survivors tell different sides of their stories after being interrogated by the rescue team. This may have been an interesting concept, if only Dead Space Downfall did not do it first and that is when this movie started to draw me back a bit...and even more and more and more as the film went on. The four main characters that are giving their sides of the story are pretty much your standard cookie cutter characters in horror survival films. Let's see; you got the troubled tough guy who's trying to get over the loss of his child, the wounded hero who has seen too much in his short lifetime, the religious zealot who thinks an ancient death machine is a sign from the Heavens, and most importantly your Asian scapegoat...er, I mean the female medic who assists her group. You also have a bunch of other characters who are easily forgettable because they're your standard military guys who say things on their dying breath like, "Leave me and take this to the ship! That's an order!" and "I'll be taking youse sons of bitches with me!" The animation in here is also a huge disappointment in here as well. Like the poorly CG characters that look like the graphics were done in 2001, but the anime cartoon side was okay to say the least but I have a feeling that the people who made the animations didn't actually communicated with each other when making this movie. The reason I say this is because there are many inconsistencies between the stories. Like the paranoid black guy who keeps seeing his dead daughter in his mind, who is black wearing a pink dress, and then when he tells his side of the story she is Asian wearing a white dress. And then there is the Captain of the spaceship whose beards tend to change between stories from full beard to short beard and even a goatee at one point. Overall, this movie is one big mess and should not have even been made with the 2.5 million dollar budget that to make it. You can take this film out of the Dead Space continuity and no one would have missed it and that is why I give it only a one star.
John Painter
This movie is horrible. Dead Space Aftermath is horrible, horrible CG, horrible pacing, horrible directing, horrible self advertising, horrible characters. Everything in this movie is horrible. I want to make this review short because I am just telling you to stay away from this movie, if you like horror movies; you're gonna hate this movie, if you like the Dead Space games; you're gonna hate this movie...a little less, but you'll still hate it. Dead Space Aftermath focuses too much on it's incredibly forgettable characters rather than the actual element of the Dead Space series; Horror and Necromorphs, speaking of which, the Necromorphs don't appear till the last twenty minutes of the movie, and they don't do much, I should also mention that half of this movie is done in CG, awful, low budget, PS1 cutscene CG, it is perhaps the worst CG I've ever seen, and I know that bad CG can make something even more scary than it is made to be, but no, they hardly take advantage of it. Dead Space Aftermath is a horror movie without any scares, I don't remember anything positive about this movie, just watch Dead Space Extraction, it's mediocre but it's much more entertaining than this, nobody should watch Aftermath, ever.
Mr Gentleman
Dead Space: Aftermath Quotes
There are no approved quotes yet for this movie.
Discussion Forum
Discuss Dead Space: Aftermath on our Movie forum!