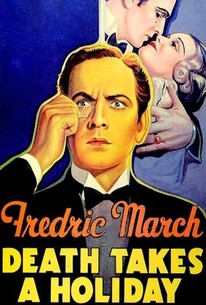 Death Takes a Holiday
1934, Fantasy, 1h 18m
8 Reviews
500+ Ratings
Where to watch
Rent/buy
Rent/buy
Rent/buy
Rate And Review
Death Takes a Holiday Photos
Movie Info
Death (Fredric March) is unable to relate to humans, so he takes the form of Prince Sirki, and tries life as a person. Many women are instantly attracted to Prince Sirki, but once they really get to know him, they become frightened. It isn't until he meets the beautiful Grazia (Evelyn Venable) that Death finally learns what it is to love. But when Grazia's father (Guy Standing) learns of Prince Sirki's real identity, he tries to break up the relationship.
Audience Reviews for Death Takes a Holiday
In this fantasy film directed by Mitchell Leisen, the grim reaper (Frederic March) gets a reprieve from his duties for three days, and he's also allowed to take human form. Over the ages he's seen life in all its smallness, and can't understand what makes living so special, or why people fear him. He comes primarily seeking knowledge, but soon finds himself enjoying new experiences and emotions. I enjoy films where Death is a character, and this one is an interesting mix of philosophy, fantasy, humor, and romance. The premise allows the film to explore the nature of life and love in fundamental ways. We see this early on as Death raises a toast and says "To this household, to life, and to all brave illusion." As we smile at his enjoyment over tasting wine and feeling its effects for the first time, we understand that from a higher, eternal perspective, all of what we do is indeed a 'brave illusion'. Now it turns out that if Death is taking a holiday, no one else receives him as a visitor, and we see news reports of people not dying during fires and other accidents. Death enjoys himself, but remarks that people seem to spend too much time indoors, and says "I have been among you two days, and what you do with yourselves still seems so very futile and empty." He also makes this devastating comment on war: "I could never make out what it was they were fighting about. It's usually a flag, isn't it? Or a barren piece of ground that neither side wants." What a fantastic line, so touching in any era, and particularly meaningful in the interval between WWI and WWII. It helps set up another observation from Death, relayed by Henry Travers (yes, Clarence from 'It's a Wonderful Life'): "Has it ever occurred to you that death may be simpler than life, and infinitely more kind?" If all this sounds gloomy or Bergmanesque, it's really not. There is one frightening scene where he reveals himself to a young woman, but overall the film is lyrical and reasonably light, and in fact it feels a bit theatrical in places. The story shows us that love is what ultimately transcends the absurdity of our brief existences. What starts out as a comedic competition with Gail Patrick and Katharine Alexander vying for Death's affections, evolves to Evelyn Venable and Death falling for one another. There is a lot behind these lines which he utters, and anyone who has fallen hopelessly in love will identify: "A moment ago I knew only that men were dust, and their end was dust. And now suddenly I know for the first time that men bear a dream within them... a dream that lifts them above their dust, and their little days. And you have brought this to me. I look at the stars in the water, Grazia, and you have given them a meaning." Essentially, the film asks the question, what if love "were only a few days or a few hours, would that be enough to justify love?" The ending, while a bit melodramatic, answers in the affirmative. True love not only what gives life its meaning, but it's also more important than life.

starts out great, fascinating conceit and frederic march has the right air of underlying menace but the tone is too melodramatic and lead actress evelyn venable is really kind of annoying. it's got a ways to go to be worse than remake 'meet joe black' with brad pitt and anthony hopkins tho

A mite stagy with occasional theatrical performances but still a compelling allegory about the mysteries of life and death.

A great story idea ... squandered, as Fredric March and Mitchell Leisen present the figure of Death as sort of working aristocracy on a vacation, aware of his power and the fear of that power, and yet oblivious too in a way. They throw in the obligatory love story and the piece turns to starchy crackers, full of old-timey and staged speeches. But it starts spooky enough!
See Details