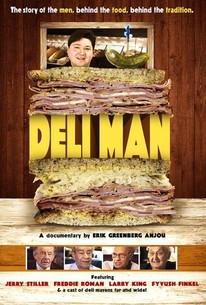 Deli Man
2014, Documentary, 1h 31m
38 Reviews
1,000+ Ratings
Where to watch
Rent/buy
Rent/buy
Rate And Review
Movie Info
Stalwart owners of Jewish delicatessens face challenging times in the wake of skyrocketing rents, changing demographics and more.
Cast & Crew
News & Interviews for Deli Man
Audience Reviews for Deli Man
HAMMY AND WRY - My Review of DELI MAN (4 Stars) One of the most startling facts to emerge from Erik Greenberg Anjou's thrillingly entertaining and surprisingly moving documentary, DELI MAN, is that in the early 20th century, there were thousands of delicatessens nationwide, but currently there remain less than 200. Sad as that is, it can't take away from the sheer joy of watching this film. The laughter starts in the first montage of interviews and continues for most of its running time, pausing momentarily for some serious lump in one's throat moments. We're given some historical context for the delis, a phenomenon that started in New York City, where Jewish immigrants sought a fast food alternative to the cooking of their ancestors. When you think about it, Jews were creating fast food out of necessity long before the deli era. Multiple delis would line each block, providing quick sandwiches and pickles to the neighborhood. Delis soon became a communal home away from home, where a motherly swat on the head was as common as the huge piles of corned beef between two slices of rye bread. You came for the food, but you stayed for the insults! This admittedly waning culture is wonderfully covered by an array of owners across the country, customers, and Catskills-style pundits such as Jerry Stiller and Fyvush Finkel. We learn how the skyrocketing cost of meat and the transport of it justifies the $14 sandwich costs. Not to mention, delis across the board are not profitable businesses anymore. While the WISE SONS deli in San Francisco's Mission District leaves it mark for mouth-watering Jewish Fusion items, the heart and soul of this film belongs to Ziggy Gruber and his Houston-based deli, Kenny & Ziggy's. Younger than most owners and classically trained in French cooking, Gruber touchingly chose to pursue the simpler, heartier fare as a way to preserve the culture. He also clearly relishes the familial feel of a deli, proudly working each table like a pro and ruling the kitchen with an iron fist, lest these Old World recipes go the way of the dinosaur. Overworked and overweight, it's Gruber's journey that touched me. He seeks to improve his health by seeking out acupuncture sessions, a personal trainer, and love in the most unexpected place. A late-in-the movie event brought me to tears as I felt such tremendous admiration for this man and his need to not only keep a tradition alive but to pay homage to those who have come before us. Funny enough, it's Gruber's father, an elderly man who walks with a cane and can barely stay awake during his sit-down interviews, who has the more modern approach to life. He not only accepts change, but embraces it. This dichotomy between father and son concisely illustrates the larger themes at play in this film. Sure, you will laugh your head off at the various examples of demanding deli customers, and you'll definitely want to eat the entire menu of your local Jewish restaurant afterwards, but what will stick with you is this the sweet sentiment of those who wish to preserve history. What noble sacrifices these owners have made to give people the comforting atmosphere of no-nonsense Jewish parents, the aromas of an Eastern European kitchen, and hearty, artery-clogging delicacies. It's not a sappy film, however, as even during the touching moments, Gruber is schvitzing up a storm or barreling through his kitchen, micromanaging his staff. It all comes across as live theater with your blustering hero multi-tasking, speaking loudly, and owning the stage he's on. Oy vey, this movie is fun, fun, fun!
See Details