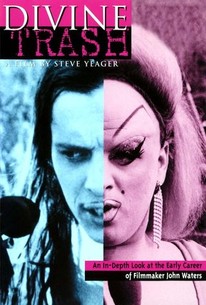 Divine Trash
1998, Documentary, 1h 45m
5 Reviews
500+ Ratings
Rate And Review
Movie Info
Baltimore's cult filmmaker and queer cinema pioneer John Waters, director of "Hairspray" and "Pink Flamingos," is profiled here with an extensive behind-the-scenes look at the making of "Pink Flamingos," as a companion to interviews with Waters' family, friends and colleagues, as well as early footage of the director at work. The true highlights are Waters' parents as they contemplate their peculiar child and his body of work, and the segments devoted to profiling Waters' star, Divine.
Audience Reviews for Divine Trash
John Waters is one of the most infamous Exploitation directors in the genre. His films are noteworthy for its shock value, and satire. Although I find his work to be hit and miss, I come to admire John Waters in a way. He has the knack to truly repulsed and shock his viewers with intense imagery and subjects. I thought that the film was good and chronicles someone's work that is ignored, and is understandable. I absolutely despised his most famous work, Pink Flamingos and I don't understand its appeal, but in terms of creating something that people will talk about, Waters definitely knows how to make something that people are going to talk about long after they've seen it. Although my opinions on his work vary, John Waters is still a very interesting figure in Exploitation/Trash cinema. Fans of the genre will most likely appreciate this film, and it is a film that should be seen by fans of Waters and Exploitation films in general. The documentary covers his legacy, but also the making of his most infamous work, Pink Flamingos. The film features interviews of several of the cast members that have worked with John Waters on the film and with his family and friends as well. What we get here is a pretty good documentary, but one that doesn't warrant multiple viewings either. This is worth seeing if you're curious as to what his career is all about. Controversial, yet interesting, John Waters is a figure that you simply can't ignore even if you think his work is questionable.