Dolemite
(1975)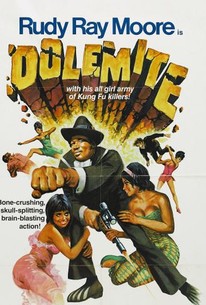 Movie Info
Stand-up comedian Rudy Ray Moore both produced and starred in this blaxploitation classic, in which ex-con Dolemite is just out of prison and ready to avenge some past transgressions.
Critic Reviews for Dolemite
Audience Reviews for Dolemite
½
Not as fun as other flicks with good ol Rudy, but it's pretty much a mandatory stop for any fan of blaxploitation cinema.
Tsubaki Sanjuro
Super Reviewer
½
"I'm gonna let 'em know that Dolemite is my name, and fuckin' up mother fuckers is my game!" It's memorable lines such as this that I could use as evidence to support the argument that this is probably what it would have looked like had Edward D. Wood, Jr. directed a blaxploitation film. In fact, that's a great way to look at this. It's so awful and ridiculous (even for a blaxploitation film), that, like Wood's films, there is a strange and compelling genius to their high level of ineptitude. Even if this is a bad film as far as bad films go, it gets not only a pass from me, but high praise because it is ridiculously entertaining, hilarious, and the polar opposite of boring. I swear that some of this had to have been intentional, because it could sure play as a satire, especially given that this came out during the last year of the 'hey day' of these types of films. What I appreciate about this is the ambiguity. That I cannot tell if this film is sincere or just satirical (but playing it straight) is awesome, and makes me like it even more. In fact, a good comparison to make would be to Black Dynamite-that was a spoof, but was done so well it became a legit entry into the genre. The acting is poor, the stroy and characters are flimsier than wet cardboard, and there's continuity errors galore- but that's all part of the fun and charm. Moore is inconsistent with his performance, but does show some energy and charisma from time to time, especially in the "toast" scenes- two parts of the film that are actually pretty solid. There actually is some subtext, but most people who watch this are probably just gonna look over it, which is unfortunate. Some may think I'm giving this film more attention than it probably deserves, but that's unfair. That I am able to ramble on about this is a testament to the fact that this film has plenty of redeeming qualities. But, as always, perspective is everything. However, if you like ridiculousness, camp, and blaxploitation, you'll probably get a kick out of this. This is especially true if you think that these films are worth scholarly attention, or at least intellectual conversation.
Chris Weber
Super Reviewer
Thanks to the persistence of Queen Bee, Dolemite is proved innocent of a crime he was framed for (possession of stolen furs and a cool half mil of drugs). Back on the streets he finds that his "normal" activities have been overtaken by a much more deadly and aggressive crime wave, with drugs, guns and murder on the streets where pimping and simple old fashioned hustling should be. The ringmaster is Willie Green and his political backers. Dolemite is targeted as soon as he walks free and, with his staple of martial-arts-trainer hunnies, attempts to push back against the crooked cops, the violent criminals and, generally, the man. I have not ever seen any of the Dolemite films beyond the same experience the majority of other white people have had ? as part of ODB's video, so I decided to watch this film recently as part of dipping into many genres to make my viewing habits more interesting than whatever rubbish is spat out as that weekend's "big" movie (although I still do that too). Anyway, Dolemite delivers what I expected it to deliver but tha is not particularly a good thing. In terms of the genre it seems to have seized on the elements of blaxploitation that are superficial and appeal to the audience rather than what makes for a "good" film. As a result the plot is rather a slapdash affair with anything that really moves things beyond setting up a basic scene. These basic scenes are mostly quite fun in a very dated way. They are scenes of out of shape men with beautiful and slim black and white women, scenes of unconvincing martial arts "action" and others of Dolemite talking tough to anyone around him. None of it is any "good" but in the context of the genre it does enough to provide what the majority of viewers will have come in the door expecting to see. In this regard it is trashy stuff but still nothing that makes me understand why this film is so famous even within the genre. Sure, it is solid and trashy like many others but it certainly doesn't compare to the stronger films (ie that are actually stronger as films, not just blaxploitation films) in the genre. The cast match the "genre basics" feel. Moore looks half-awake at times, only really coming strong to bark some swear words at white men (albeit a crowd pleaser). He is an OK lead but didn't have the charisma to make me really get into his funky character. Martin is nicely slimy as Green. The lead women is solid in Reed's Queen Bee but it will be the many attractive women that stick in the mind ? if only any of them had been allowed to act a bit or be used better in the plot then maybe they would have helped the film somewhat. The soundtrack is pretty good (although not brilliant) while the direction is kindly described as "serviceable", with nothing special and far too many "goofs" (like the many booms in shot for example). Dolemite is a solid genre film but nothing special outside of home turf. It is reasonably funky with lots of pimps, attractive women, sex and "action" ? all of which is basic but again nothing special. Not sure what about this film made it stick in the mind for so long as, although it is quite good as a genre film, there are much better films to be had in the blaxploitation field.
Cassandra Maples
Super Reviewer
Dolemite Quotes
| | |
| --- | --- |
| Dolemite: | I'm gonna let 'em know that Dolemite is back on the scene! I'm gonna let 'em know that Dolemite is my name, and fuckin' up motherfuckers is my game! |