Don't Let Me Drown
(2009)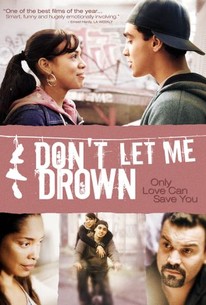 AUDIENCE SCORE
Critic Consensus: No consensus yet.
Don't Let Me Drown Photos
Movie Info
Two young people are brought together by a tragedy that has touched both of their families in this independent drama from writer and director Cruz Angeles. Stephanie (Gleendilys Inoa) is a teenaged girl whose family has moved to Brooklyn shortly after the September 11 terrorist attack on the World Trade Center, which claimed the life of Stephanie's sister. While Stephanie's family is wracked with grief, her father feels a rage over the loss of his daughter than he can't clearly express or purge from himself, and it's left to his wife to hold the family together. Meanwhile, Lalo (E.J. Bonilla) is the son of a Mexican immigrant who was part of the cleaning crew at the WTC before the attacks; now Lalo's father works sifting through the debris at Ground Zero. Stephanie meets Lalo at a party in a city park, and while she's not sure how she feels about him at first, he's immediately infatuated with her and as he pursues her, they discover how much they have in common and they find themselves falling in love. Don't Let Me Drown received its World Premiere at the 2009 Sundance Film Festival.
Critic Reviews for Don't Let Me Drown
Audience Reviews for Don't Let Me Drown
½
Good script with comic moments, serious moments, and a lot in between. The acting, especially by the young couple and the father, Ricardo Chavira, is really good. The soundtrack is a lot of rap music, and there is a lot of profanity - but that's just the culture in this setting. The movie is basically a Hispanic movie with about half the dialog in Spanish...so plenty of subtitiles. I enjoyed this.
Cynthia S.
Super Reviewer
½
Don't Let Me Drown tells the story of two ethnically different families fighting to survive in the wake of one of the most devastating tragedies in American history. Lalo (E.J. Bonilla) and Stefanie (Gleendylis Inoa) are two high-school kids living in Brooklyn. Lalo is an American-born Mexican teen whose father worked as a janitor at the World Trade Center and now spends his days blackening his lungs as part of the Ground Zero cleanup crew. Lalo is forced to watch as his father returns home nightly with escalating medical complications due to the dust inhaled.
Stephanie is a Dominican girl whose family has relocated from Manhattan to Brooklyn after the death of her sister, who worked in one of the Twin Towers. While her mother (Gina Torres) tries to hold the family together, her father (Ricardo Antonio Chavira from Desperate Housewives) is overwhelmed by the loss and cannot control his anger and is often abusive.
In the midst of their family turmoil and exactly one month after the WTC attacks, Lalo and Stefanie meet at a birthday party, and although they start off on the wrong foot, the ice melts, and their budding friendship becomes a clandestine romance. Despite parents trying to break them up, lecherous advances from a slimy neighbour and the usual teen uncertainties, they try to find stability and safety in an ever-changing and unrelentingly difficult world reminding us of the healing power that can be found in love.
Don't Let Me Drown Quotes
There are no approved quotes yet for this movie.