Double Agent 73
(1974)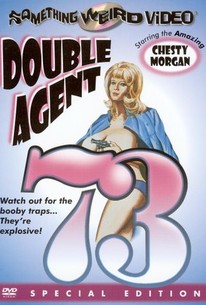 AUDIENCE SCORE
Critic Consensus: No consensus yet.
Movie Info
The phrase "booby trapped" gains a whole new meaning in this bizarre blend of sexploitation and espionage, starring the freakishly proportioned Chesty Morgan and written and directed by Doris Wishman. Jane (Chesty Morgan) is a spy working with American intelligence who is ordered to cut short her vacation for a special assignment. An international drug cartel has been smuggling massive amounts of cheap heroin into the United States, and Jane's superiors want the dope men out of commission. Jane is given a list of culprits who are to be tracked down and killed; however, the agency needs evidence that the drug ring has been shut down, so they have devised an unusual plan. A new type of spy camera has been surgically installed in Jane's left breast, which is possible given her remarkable 73-inch bust measurement. After each member of the drug gang has been dispatched, Jane is to take a picture of him using the special camera. However, Jane is working under a rather severe deadline -- if she doesn't finish the job and return to the base within a week, a bomb planted inside the camera will explode, killing Jane and those around her. Double Agent 73 was the second and final collaboration between Chesty Morgan and Doris Wishman; Morgan would shoot a small role in Il Casanova di Fellini before dropping out of movies, while Wishman would remain active in filmmaking up until her death in 2002.
Critic Reviews for Double Agent 73
Audience Reviews for Double Agent 73
This is the "Queen of Exploitation", Doris Wishman's hilariously inept follow-up to her previous collaboration with the obscenely endowed Chesty Morgan ("Deadly Weapons"). Yes, she of the 73-inch breasts returns to the silver screen in this astonishingly cheap pseudo-sequel which is even more outrageous than it's predecessor. Here Chesty plays super agent Jane Tenay who is tailing a string of heroin pushers. A camera is planted in her bosom and she is instructed to photograph everyone that she eliminates, which she accomplishes by squeezing her mammoth mammories! Chock full of the typical Doris Wishman "trademarks" (close-ups of inanimate objects such as an ashtray, feet, or usually Chesty's massive cleavage) this flick was sampled in the John Waters comedy classic "Serial Mom"...it must be seen to be believed!
Cassandra Maples
Super Reviewer
Double Agent 73 Quotes
There are no approved quotes yet for this movie.