Early Spring (Soshun)
(1974)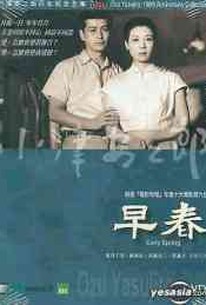 Movie Info
Like most of director Yasujiro Ozu's work, Early Spring is a deceptively simple family drama: a middle-aged office worker, bored with dreary routines of his job and his marriage, succumbs to a brief fling with the office flirt. His wife inevitably discovers his infidelity, but when he accepts a transfer to the country, she follows him to start their life anew. Ozu's depiction of marital difficulties is hardly depressing. Instead he employs his signature warmth, sensitivity, and humor to create a touching, thoughtful film.~ Jonathan Crow, All Movie Guide
Critic Reviews for Early Spring (Soshun)
Audience Reviews for Early Spring (Soshun)
Early Spring came between Ozu's incredible masterpieces Tokyo Story and Tokyo Twilight. No surprise then, that it kind of falls flat in places. It's by no means a bad film, but it adds a bit too much complexity, making the focus confusing at points. The film starts as a comment on the salary man. The opening scenes are both funny and sad, as we see the empty streets of Japan gradually fill with men and women in white shirts. They all come together at the subway station, and then we see two men in an office building looking down at the madness below. These are the kind of details one must love about Ozu. It is all represented there on the screen, and without many words we know what is going on. As the film continues we see the workers on their breaks and finally arranging a weekend trip. On this trip is where the real story begins. A young married man named Shoji is attracted to a young girl nicknamed "Goldfish". They are unable to hide their attraction, as their colleagues start spreading rumors and noticing the smiles between the two. Eventually they give into their temptation. It's the effects after this betrayal that are the key focus. The young girl is surprised that she develops emotions, while Shoji is instantly ashamed of himself. His guilt soon grows, and he avoids his wife. Because of this his wife begins to suspect he is cheating on her. The film shows how destructive guilt can be. As Shoji tries to keep his mind off the affair, he ends up forgetting the anniversary of his son's death. The film is too long for its material. There simply isn't enough going on in the middle, and too much at the beginning and end. What it does offer is Ozu's look at relationships without the arrangement of a marriage. Instead, this shows the hard work and commitment a marriage takes. A theme that was handled a lot more competently and economically in his next feature.
Luke Baldock
Super Reviewer
½
[font=Century Gothic]"Early Spring" is a long, slow, but eventually rewarding movie that is somewhat of a departure for Yasujiro Ozu. On a stylistic level, there is little cutting back and forth between characters and more of a reliance on longer takes. One example of this is a classic shot of commuters going to a train station on a typical weekday morning, showcasing a perfectly uniform sea of white shirts and blouses.(I was surprised there were no ties, though.) One of these shirts belongs to Sugiyama(Ryo Ikebe), a young office worker or salaryman, if you will. So, instead of it being about a nuclear or extended family, the focus here is on the strained relationship between him and his wife, Masako(Chikage Awashima), which is not helped by him going to play Mah Jong with his commuter friends(itself an extended family) after work or his connection to a young woman nicknamed Goldfish(Keiko Kishi).[/font] [font=Century Gothic]There is also some commentary about the life of a salaryman and how he is trapped(one could say the same thing about marriage), but fifty years later nothing has changed in the life of an office worker, especially how it applies to thwarted dreams. But as I've said before, what happens in the office is not important, how you live your life outside of it is. And I think Ozu also realizes this.[/font]
½
probably the most morally sensitive film of ozu's brilliant career. there might not be a single betrayal as tragic as one spouse cheating on another, and ozu explores this betrayal with depth, clarity, and insight. while difficult to watch the film is exceptionally profound, and although it carries usual ozu themes like gossip and marriage, he explores these common themes so differently in each film that they never get old. the film is strikingly similar to the sam mendes film "revolutionary road", although this film is even more epic and the theme of marital strife is even more fleshed out. i wasnt sure id like the film because of the topic but it was stirring to watch. a beautiful film.
Early Spring (Soshun) Quotes
There are no approved quotes yet for this movie.