East Side, West Side
(1949)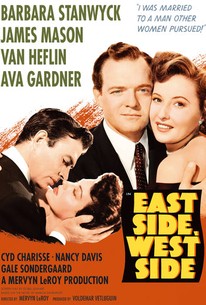 AUDIENCE SCORE
Critic Consensus: No consensus yet.
East Side, West Side Photos
Movie Info
Based on the novel by Marcia Davenport, a New York society lady (Barbara Stanwyck) and her husband (James Mason) have problems when he begins seeing a younger woman (Ava Gardner).
Critic Reviews for East Side, West Side
All Critics (2) | Fresh (0) | Rotten (2)
In the MGM tradition, it presents such uninteresting melodrama trash with style and makes it entertaining through its talented cast.
Audience Reviews for East Side, West Side
The main theme of this movie is one that has played out so many times in movies and books (and life): a man (James Mason) cheats on his wife (Barbara Stanwyck) with a woman (Ava Gardner) who gives him the thrills she cannot. The affair was over, but now she's back. He resists, but she points out that fireworks are not something to be taken lightly: "Maybe it wasn't love, maybe it was only chemistry, or the right combination, or a miracle. But most people drag through their whole lives without finding it. We both know that, don't we Bran?" And when he tells her he doesn't want to see her again, she purrs the sexy double entendre "I'll do exactly what you want Bran, exactly what you want." Gardner is just brilliant, oozing raw desire and channeling Jean Harlow in "The Red-Headed Woman" when she later gets slapped by Mason. Instead of being hurt, she eggs him on, knowing his passion is rising, and knows "that's what you're missing at home", and "you want to be rotten like me." Stanwyck plays the virtuous wife with quiet grace, though I thought she was too reserved in a showdown scene with the outlandishly mean Gardner. It's always great to see her movies though, and she does play 'hurt' and 'conflicted' well. There is a lot of star power here, with Cyd Charisse and Van Heflin also in the cast, and even an appearance from Nancy Davis, who of course would later be Nancy Reagan. As Stanwyck is betrayed by Mason, she turns to Heflin, and it's quite clear they're mutually attracted. Heflin is so smooth and likeable, and there is dignity in his acknowledgment of his love for her without resorting to adultery, in direct contrast to Gardner and Mason. Mason and Stanwyck may have gotten top billing, but I think they were upstaged by Heflin and Gardner. As the pressure ratchets up, both Mason and Stanwyck find themselves needing to make choices, though Mason's is disrupted by an event I won't spoil. There are some events that might be too convenient as it plays out, but there is reality and passion here, and I enjoyed this film.
Antonius Block
Super Reviewer
A good drama about complicated romances.
½
A great cast isn't given much to do in this generally droll melodrama that gets slightly noirish. Barbara Stanwyck and James Mason are surprisingly unmemorable, but and early performance by Ava Gardner stands out (as if a young Ava Gardner couldn't stand out) for the few scenes she has but East Side, West Side. Otherwise this movie is just dated and for the most part forgettable.
Michael Gildea
Super Reviewer
East Side, West Side Quotes
There are no approved quotes yet for this movie.