El Aura (The Aura)
(2006)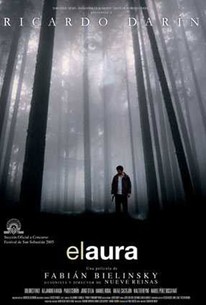 El Aura (The Aura) Photos
Movie Info
A lonely taxidermist with a photographic memory dreams of committing the "perfect crime" in Nine Queens director Fabián Bielinsky's deliberately paced existential thriller. Espinosa (Ricardo Darín) is an epileptic fortysomething who makes his living by stuffing creatures for the natural history museum in Buenos Aires. It is there that Espinosa meets friend and fellow taxidermist Sontag (Alejandro Awada). After picking up their paycheck at a nearby bank, Sontag kindly invites the lonely Espinosa to join him in the forests of southern Argentina for a brief hunting getaway. Soon after checking into their hotel, Sontag and Espinosa take to nature in hopes of bagging a buck, but their voyage takes a dark turn when, in the grip of another seizure, Espinosa accidentally shoots and kills hotel owner Dietrich (Manuel Rodal). Though his suspicions that Dietrich was involved with some shady dealings seem little more than a means for justifying the tragic turn of events, Espinosa soon realizes that he may be onto something when a pair of thugs named Sosa (Pablo Cedron) and Montero (Walter Reyno) come searching for the missing proprietor. As all of the elements quickly fall into place, it begins to appear as if Espinosa may finally be prepared to execute the crime he has always dreamt about.
News & Interviews for El Aura (The Aura)
Critic Reviews for El Aura (The Aura)
Audience Reviews for El Aura (The Aura)
½
After the dissapointing Nueve Reinas, Bielinsky makes a great film, Interesting & engaging with a bleak & overcast atmosphere
El Aura is a wonderfully deep and thoughtful crime film. The bleached look make it a dark and dreary world, but one that doesn't exclude viewers. It's not Wham-Bam action, but when it does kick off the violence is more affective than the majority of crime dramas. Darin is a wonderful actor that doesn't feel the need to "sing for his supper". He lets you interpret his thoughts. The extremely silent moments, where he bonds with the dog simply with subtle glances, are great moments. As he plays a taxidermist, the relationship is laced with ironic warmth. The film has many Malick esque moments of quiet reflection, using the landscape and simple gestures to convey much more. Drags a bit in the 3rd quarter as it attempts to build a few too many relationships.
Luke Baldock
Super Reviewer
½
The best part about The Aura is its tone. It is an entirely overcast movie, perpetually threatened by the possibility of rain (on which it never delivers). It seems an appropriate atmosphere for this grim, sad tale of a man who doesn't have much to live for but his heist fantasies. That same tone, so meticulously crafted and presented, grows almost overbearing at times. The Aura is markedly one-note in its presentation, but it doesn't suffer blatantly for it. It's just that seeing the same grey-green forests and forlorn faces over and over again grows exhausting by the time you've slogged through this two-hour journey. But for all its heaviness, I didn't really find The Aura hard to watch. Its plot is very simple, which is refreshing; an unadorned plot can do far more in almost any situation than something extremely complex. The Aura, with its bare bones plot and emphasis on tone and character, is quite like a one-man Heaven. It concerns an epileptic taxidermist who dreams about committing a heist and just so happens to stumble into one; in movie tradition, however, things rarely go as planned. The Aura is thematically complex. There's a lot of allegories and motifs buried in the film, such as the treatment of women, the wolf, fantasy versus reality, and the illusion of control. To find such literate writing in a thriller movie is very refreshing. Expounding on these themes is Ricardo Darin, giving a strong performance as the taxidermist. It's a difficult role to pull off given the character's (and movie's) lack of expression, but Darin keeps things interesting. A wistful footnote to end Fabian Bielinsky's career, The Aura is something vital and intelligent. While it may bore some people, there's merit to be found in what it does for its genre and performers.
Drew Smith
Super Reviewer
El Aura (The Aura) Quotes
There are no approved quotes yet for this movie.