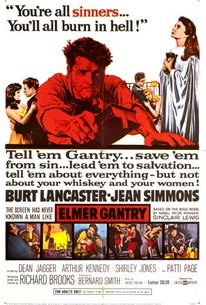 Elmer Gantry
1960, Drama, 2h 25m
32 Reviews
2,500+ Ratings
Rate And Review
Movie Info
When hedonistic but charming con man Elmer Gantry (Burt Lancaster) meets the beautiful Sister Sharon Falconer (Jean Simmons), a roadside revivalist, he feigns piousness to join her act as a passionate preacher. The two make a successful onstage pair, and their chemistry extends to romance. Both the show and their relationship are threatened, however, when one of Gantry's ex-lovers (Shirley Jones) decides that she has a score to settle with the charismatic performer.
Audience Reviews for Elmer Gantry
Often it appears to be engaging in the kind of hypocritical moralizing the movie is also condemning. That said Lancaster is completely captivating as is the rest of the cast.

A great film with fine work from Lancaster and Simmons. The awards were deserved.

A snake-oil preacher woos a revivalist, and together they build a following, but will his dishonesty hurt their partnership more than his charisma helps their cause? Burt Lancaster's finest performance showcases his over-the-top antics and his remarkably seductive charm and his ability to convey a soulful depth of character. He rises to the challenge of the perfect part for his talents. Jean Simmons, always demure, also gives a strong, subtle performance as Sister Sharon Falconer, a well-meaning but manipulated revivalist. The film's satire pillories ignorance and theft more than it levels its glass at religious fervor. It doesn't suggest that religion is bullshit because we see a proper refutation in the person of well-meaning religious people, but it does say that people are no more easily manipulated than when they are are pushed by either faith or their genitals. Seems like apt criticism to me. Overall, your patience with this film will depend on your reaction to Lancaster's antics and the film's thesis.

Elmer Gantry opens with a short shot of chapter 1 of the novel, I'm not sure if this implies a loyal reproduction, but since one of the criticisms I heard of this film is that it vulgarizes the novel, than it's probably not. And this film vulgar, especially for the time. There was a lengthy warning at the beginning that the content may offend. The film, while perverted, is usually colorful and light filled. An early is where Elmer goes into a black church, even as the farthest thing from a spiritual man, or a singer, I wanted to stand up and sing with them. That was a well done scene. Everywhere the salesman Elmer Gantry goes people think he's a preacher, and really he always was. It's clear to see how much this film inspired. During Gantry's ramblings, I always saw the resemblance to Network. Elmer also reminds me of John Candy's character in Planes, Trains, and Automobiles. The preaching is Wise Blood is highly similar, and the cult like setting in The Master. The script is filled with wit and the dialogue keeps moving. The church at the end is highly remarkable and realistic. A 150 minute delight.
See Details