The Empire in Africa
(2006)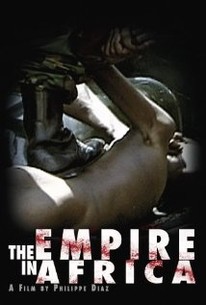 The Empire in Africa Photos
Movie Info
Located in Western Africa, Sierra Leone is a nation caught in a struggle between extreme poverty and extreme wealth; while diamond mining provides the bulk of the country's income, most of its people struggle to survive by raising their own crops. In 1991, a civil war broke out in Sierra Leone, with a rebel group called the Revolutionary United Front taking on government forces in a bid for a more just economy and an end to hunger. However, the forces behind Sierra Leone's mining interests were more interested in protecting their investments than changing the economy, and both the nation's military and the RUF fell into indiscriminate violence against all parties involved. In all, 70,000 people lost their lives in the nearly 15 years of fighting, while millions lost their homes and many thousands were maimed. Filmmaker Philippe Diaz took a camera crew into Sierra Leone in the midst of the fighting to document the bloodshed and tell the story behind the brutality; The Empire in Africa is the result, which incorporates interviews with politicians and military figures with footage of the mayhem. The Empire in Africa received its North American premiere at the 2006 Slamdance Film Festival.
Cast
News & Interviews for The Empire in Africa
Critic Reviews for The Empire in Africa
Audience Reviews for The Empire in Africa
[font=Century Gothic]"The Empire in Africa" is a heartrending and eye-opening documentary about the civil war in Sierra Leone that lasted from 1991-1999, leaving 70,000 dead and 2 million displaced, 400,000 outside of the country. The civil war started when the Revolutionary United Front(RUF) began an uprising against the corrupt one-party government in an attempt to redistribute some of the vast wealth of the country that was otherwise going to western interests. And it was western influence on the United Nations Security Council which would unnecessarily prolong the conflict, making life on the civilian population that much harder, especially where atrocities were concerned. The documentary featuring interviews with all sides of the conflict is definitely on the side of the RUF. So, it would be disingenuous in any case to suggest that only the government forces were behind the atrocities which multiple shots of amputees and footage of people being shot in the street attest to. In the end, this civil war is another case study where the civilian population matter little in neocolonialist schemes where a watered-down form of democracy is forced down their throats in an attempt to manipulate internal policies in the country. Sound familiar?[/font]
The Empire in Africa Quotes
There are no approved quotes yet for this movie.