Entrails of the Beautiful Woman
(1986)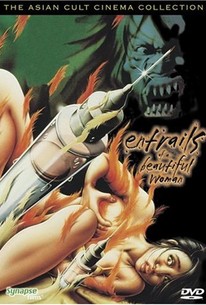 AUDIENCE SCORE
Critic Consensus: No consensus yet.
Movie Info
In this extremely explicit follow-up to ENTRAILS OF A VIRGIN, a doctor gets more than she bargained for after getting entangled with an evil Japanese Yakuza clan. A woman commits suicide at a clinic after being brutally raped and injected with a drug called Angel Rain by the Yakuza. A young psychologist infiltrates the clan to avenge her senseless death and manipulates them enacting her own brand of violent justice. Unfortunately, the Yakuza finally catch her too, and her fate brings gruesome death and destruction to everyone involved. Yet another gory Japanese classic from director Gaira, ENTRAILS OF A BEAUTIFUL WOMAN is a film definitely not for the squeamish. If you thought ENTRAILS OF A VIRGIN was over-the-top, wait until you see what surprises ENTRAILS OF A BEAUTIFUL WOMAN has in store! Starring MEGUMI OZAWA KEN YOSHIZAWA KAZUHIRO SANO Written by GAIRA (KAZUO KOMIZU) Produced By HIROSHI HANZAWA and TOSHIO SATO Directed by GAIRA (KAZUO KOMIZU) Not Rated 1986 Approx. 68 min. Color NTSC Dolby Digital Mono 1.78:1
Critic Reviews for Entrails of the Beautiful Woman
There are no critic reviews yet for Entrails of the Beautiful Woman. Keep checking Rotten Tomatoes for updates!
Audience Reviews for Entrails of the Beautiful Woman
Sex, drugs and violence are the order of the day in this bizarre Japanese rape-revenge gorefest. Movie begins with a woman being drugged, and brutally raped by five Yakuza goons. She is then informed that her sister has been sold to the African sex trade, and the Yakuza have similar plans for her. She does however escape, and makes it to a clinic, but the trauma is too much and she kills herself, but not before telling her story to the clinics Psychiatrist, who ultimateley takes it upon herself to avenge the woman. Pretty much non stop sex and eventually violence follow. This film also features a strange demon of gore, who in one memorable scene receives fellatio from a strung out women before killing her in grisly fashion. Apparently this demon is some weird hermaphrodite though as it manages to invert its penis and its next victim dies from asphxiation via cunt / gooey mess. Yeah, this movie is pretty fucked and I loved every minute of it. While comparisons to films like I Spit on Your Grave or Thriller: A Cruel Picture are unavoidable and even valid, this film has enough of it's own thing going on to make it a must see for fans of the perverse, fucked up and ultra violent. A must see if you fall into that category.
Ed Fucking Harris
Super Reviewer
½
Somehow more disturbing than the previous film. Grungier. Still silly, overall.
Entrails of the Beautiful Woman Quotes
There are no approved quotes yet for this movie.