Ernest Goes to Camp
(1987)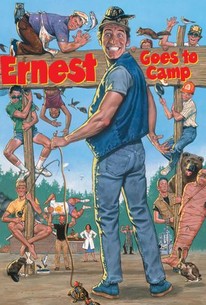 Ernest Goes to Camp Photos
Movie Info
Ernest (Jim Varney) gets a job as a fix-it man at a summer camp for troubled boys, but what he really wants to be is a counselor. This juvenile comedy, filled with potty humor and slapstick, chronicles his campaign to get a promotion. A consummate bungler, he ends up causing all kinds of comical chaos. Fortunately, he also ends up helping many of the campers.
Critic Reviews for Ernest Goes to Camp
Audience Reviews for Ernest Goes to Camp
I don't care if the critics like this or not. Jim Varney was(and still is) one of my favorite actors of all time. He was truly gifted and a multi-faceted actor. How could anyone not fall for that lovable, yet zany 'Ernest'? 'Ernest Goes to Camp' is just one of the many movies I love starring Jim Varney. It's not hard to peel back a thin layer and find the good moral content of this show. As with all 'Ernest' movies, there's always a positive outlook and message that he sends. I never get tired of watching these movies over and over again. Ernest sings "Gee, I'm Glad it's Rainin'", and it's so heartbreakingly beautiful and he sings it with such emotion. The song, "Brave Hearts" fits this movie and Ernest to T. The lyrics are uplifting. Hollywood is too saturated and concerned with making movies that are filled with bad language, sex and violence. It's too bad they don't make movies like this anymore. I love Jim 'Ernest P. Worrell' Varney's movies because they were void of filth and vulgarity. It's good, honest, clean fun. He always gave people the benefit of the doubt, stuck by those who would ridicule him and was just a humble, sweetheart of a guy. Even his commercials are entertaining and I'm one of those people who usually hate commercials. And you'd have to be made of stone not to be drawn in by such a powerful and magnetic smile. R.I.P. James Albert Varney Jr. You were one of the good ones. It's a shame that some people fail to see that.
Stacy Avary
Super Reviewer
Ernest P. Worrell: You see these hands? Huh? Huh? You see them? If I put them in my pockets I will be arrested for concealing lethal weapons.
Aaron Neuwirth
Super Reviewer
It was one of the better. That's not saying much.
Curtis Lilly
Super Reviewer
Ernest Goes to Camp Quotes
There are no approved quotes yet for this movie.