The Evil That Men Do
(1984)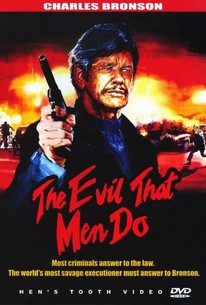 AUDIENCE SCORE
Critic Consensus: No consensus yet.
The Evil That Men Do Photos
Movie Info
Charles Bronson plays another vengeful vigilante in this action adventure. This time he plays a retired assassin who once again straps on his guns to find the killer of his closest friend. His search takes him to the dense jungles of Guatemala and into the lair of a sadistic British doctor.
Critic Reviews for The Evil That Men Do
Audience Reviews for The Evil That Men Do
The Evil That Men Do is a blistering thriller that stars Charles Bronson in yet another revenge themed storyline. The film doesn't reinvent the wheel, but for what it is, it's a very entertaining Bronson vehicle that still manages to deliver everything you'd expect from his work. Boasting riveting tension and action, The Evil That Men Do is one of the finer films that stars Charles Bronson. This is a well crafted movie that is quite underrated in my opinion. Bronson films were never fine cinematic achievements, but they were always thrilling, This one does stand out because, it differs slightly from many other works that Bronson has done, and it is a better film than his films that would appear in the late 80's, which would be more formulaic, and ridiculous. I've seen plenty of Bronson films, and The Evil That Men Do is one his finer works and features plenty of memorable moments for Bronson fans. I found the plot to be well structured, detailed and it kept you involved from start to finish. Bronson is a great actor and he always brought a unique and unforgettable presence to his films. The film is not without its flaws, but it most certainly is appealing to action fans and Bronson fans. If you're looking for a fun, entertaining, and always riveting movie, check this film out. This is an underrated film, and though it is not a classic, it still is a movie that you shouldn't pass up. With an interesting story, effective performances and top-notch action, The Evil That Men Do is highly entertaining from start to finish. Go into this one expecting a mindless and exhilarating slice of pure 80's action, and you're sure to enjoy it.
typical Bronson vehicle...violent, cliches abound aplenty..but for the Bronson fan,,this movie entertains and the viewer, knowing what to expect going in, won't be disappointed..
Bronson is hired to take out the trash, this time being a doctor who specializes in torture and interogation. Bronson in this film specializes in squeezing people's nutsack until they die. Guess who wins.
Christopher Brown
Super Reviewer
The Evil That Men Do Quotes
There are no approved quotes yet for this movie.