Evil Toons
(1992)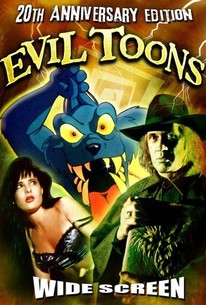 Movie Info
Four coeds take on a job cleaning houses to earn extra money but get more than they bargained for when they are assigned to a eerie mansion in this horror parody. Soon, they are forced to fight off a lustful, mischievous little monster with the help of a frightening ghost.
Critic Reviews for Evil Toons
Audience Reviews for Evil Toons
½
David Carradine should lick Quentin Tarantino's shoes clean twice a day because if it wasn't for him and 'Kill Bill,' he'd still be making appearances in these softcore cheapies. Fred Olen Ray is no Jim Wynorski when it comes to softcore comedy, and the laughs here are infrequent. There is some amusement to be found in the wretched acting, but don't try to find any scares (except in the acting.) However we should give 'Evil Toons' credit for lampooning the horror genre years before 'Scream' with self-referential exchanges like, "Why do I have to go downstairs by myself?" Her friend answers, "How else are we going to get knocked off one by one?"
Doctor Strangeblog
Super Reviewer
½
A poor excuse for some soft core porn.
Anthony Valletta
Super Reviewer
Evil Toons Quotes
There are no approved quotes yet for this movie.