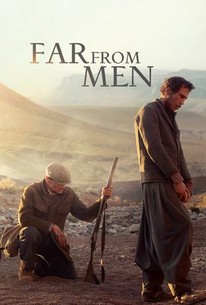 Far From Men
2014, Drama, 1h 42m
32 Reviews
1,000+ Ratings
Where to watch
Rent/buy
Rent/buy
Rent/buy
Rate And Review
Movie Info
In 1950s Algeria, a schoolteacher (Viggo Mortensen) agrees to deliver an admitted murderer (Reda Kateb) to a French court for trial.
News & Interviews for Far From Men
Audience Reviews for Far From Men
Slow but beautifully filmed drama with Arab and French subtitles. One should not let oneself get scared away by that fact, because the bleak landscapes, subtle Nick Cave soundtrack and Mortensen's outstanding acting more than make up for it. The ending is particularly touching.

A careful and slow-burning drama that knows how to wonderfully explore the desolate landscapes of the Algerian desert and has an intense Viggo Mortensen at the center of a narrative that surprises us as we realize in the end how involved we have become with its characters.

A marvelous allegory for reconciliation between nations and religions, if only people want it enough. The setting is the war of rebellion of the Algerians against the French in 1954. The vast boulder-strewn mountains, desert, and the abandoned buildings and places are the setting for the journey of two men in desperate straits. The protagonist Daru is an educated descendant of Andalusian guest workers, despised by both the French and the Algerians. He and his prisoner Mohamed must each find a new way of being, and reconciling the past. The film is produced with crystal-clear precision; the thud of gunfire and the landing of bullets sound and look real, with pieces coming out of rocks next to the actors; bodies fall unceremoniously; even the saddlery is authentic, down to the leather of standing martingales. In a beautiful arc to Daru, the horses appear to be of the Andalusian rather than the Arabian type; each horse is superb; in the film, they symbolize the turning points of change. Mortensen as Daru has utter transparency, rendering Daru like a clear lens on the events; he is a teacher in many ways not only one. In contrast, Kateb as Mohamed begins as a dangerous man covered in layers, who gradually reveals his valour, humour and complexity; and an appealing nature; and he must choose his future. The soundtrack is haunting in the way of Paris, Texas. Those who are not great fans of Nick Cave will find that his style suits this film very well. Interestingly, while Cave is lugubrious, the music renders the harsh setting bright. The title "Far From Men" suggests the existentialist dilemma of how to be authentic in the face of freedom; to engage with others who would define us, and to exercise responsible choice; and, like the characters in this film, you have the time to think.
See Details