Far Side of the Moon
(2005)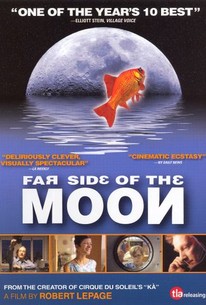 Far Side of the Moon Photos
Movie Info
A man pondering the unrecognized aspects of space travel has more than a few problems to contend with on Earth in this French Canadian drama. Phillippe (Robert Lepage) is "professional student" who lives with his ailing mother (Anne-Marie Cadieux) in a small, run-down apartment in Quebec. Phillippe has spent years working on his doctoral thesis, which looks at the philosophical and emotional consequences of the race into space between the United States and the Soviet Union during the 1960s and '70s. Phillippe just barely supports himself as a telemarketer, his cold-calling has put him in touch with a former girlfriend who isn't especially happy to hear from him, and an attempt to discuss his research with a former Russian cosmonaut has near-disastrous results. Phillippe also has to put up with his younger brother André (also played by Lepage), a television weather announcer who has money, a small degree of fame, a handsome boyfriend, and almost no respect for Phillippe. As his mother's health takes a severe turn for the worst, Phillippe's luck seems to have changed at last when he's invited to Russia to discuss his recently published thesis on the space program, but André is not willing to help look after their mother. Far Side of the Moon (aka La Face Cachée de la Lune) was written, directed, and edited by leading man Lepage, who adapted the script from his own stage play.
Critic Reviews for Far Side of the Moon
Audience Reviews for Far Side of the Moon
½
A creative concoction of science, social dysfunction and human persistence. Robert Lepage is simply incredible!
Randy Tippy
Super Reviewer
Nope, I haven't seen the original stage play. This is the second Lepage film I have seen in my life, and I believe the themes that are explored are very similar to the ones in Le Confessional : except in that other film, broken family dynamics were explored with much more swing, and the result was frankly a lot more compelling. Visually, this is clever and enticing work, as Lepage uses recurring imagery (the moon, a goldfish, television screens, washing machines) as Phillippe revisits his past and present. Special effects are both subtle and astonishing, and the camera gets up close to capture hidden recesses of emotion within the characters. Filmed with a small budget, La Face Cachée de la Lune still manages to dazzle. And yet... it's a bit annoying that the film doesn't grab hold more effectively, because artistically it is a real achievement. Lepage constructs films fluidly, dissolving between scenes in almost imperceptible ways that are clever and extremely skillful while touching on deep themes. As an actor, Lepage is fine enough, but he can only command our attention onscreen for so long, so I found myself holding on to supporting performers for any narrative interest. Needless to say, he is at the very center of the project, so characters besides Philippe and Andre are not given a lot of screentime. I understand the brothers occupy the core of the drama, but I personally found them uninteresting, and their dialogue sometimes feels forced. I wanted to fall in love with this one as it obtained even more international recognition than Le Confessional, but alas, I was not swept away at all. I appreciated it, but... that's about it.
Laurence Collin
Super Reviewer
½
[font=Century Gothic]With "Far Side of the Moon", writer-director Robert Lepage uses the story of brothers Phillippe and Andre(both played by Lepage) as a springboard to also explore the history of space flight(Phillippe is writing his thesis on this while working as a telemarketer). Then, he uses parallels between the two storylines as a jumping off point for a stylish portrait of humanity's potential. [/font] [font=Century Gothic][/font] [font=Century Gothic]The history of space flight provides an especially strong example. Space exploration started with huge potential with the Sputnik launch. Its high point is of course the landing of a man on the moon in 1969, followed by the Apollo-Soyuz mission of 1975, uniting two former adversaries but recently failures have outweighed achievements. Now, emphasis is on the potential for contacting extraterrestrials, a project that Phillippe has volunteered to help with. [/font]
Far Side of the Moon Quotes
There are no approved quotes yet for this movie.