Folies Bergère
(2014)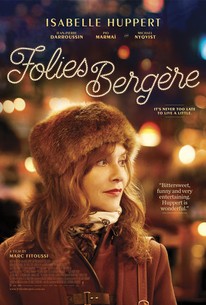 Movie Info
Brigitte and Xavier are a couple of cattle farmers living and working together in Normandy. They have always got on well but now that their two children have left the household routine and weariness have set in. One night, Brigitte, who has been invited to a party by a group of Parisians in the house next to their farm, lets herself be wooed by Stan, a witty, cool attractive young man. Some time later, giving a visit to a dermatologist as an excuse, she goes to Paris to meet him. But things do not go according to plan...
Critic Reviews for Folies Bergère
Audience Reviews for Folies Bergère
Good slice of life film about a long married couple. I enjoyed the parts set in Paris and the little journey taken by Brigitte. Not quite sure about the cheating aspect, but that aside, quite nice to see the end conclusion.
Nicki Marie
Super Reviewer
½
French delicacy. Isabelle Huppert is the star, and the camera leaves her only to display the best of Paris streets and classy amusements, alternating with provincial charm and prize French agriculture. As if it were the most natural thing in the world, a happy but slightly bored farmer's wife seeks a little mild adventure in the capital, telling her husband that she is going for a doctor's appointment. Huppert balances her business-minded, Charolais prize-winner, living the rural idyll, with the woman's desire for new interest, and her willingness to show fire, to flirt and be seduced though, it must be said, only with charm and style. This is supplied by the equally married Danish periodontist, played musically by the mystic-eyed Michael Nyqvist, who dresses immaculately, persists delightfully, and whose lovely hands might have been sculpted by a Romantic artist. The French twist comes when the doughty farm labourer, a wise philosopher and counsel who missed his vocation, lights the farmer's way back to his wife. It goes without saying that everything in this film is perfectly made, with not a frame, a word or a gesture out of place, and the acting is no exception. Even the massive, white Charolais are students of the emotions, with a sense of humour. This is, in fact, more like a painting than a film. It's about living in the moment. Go, and float adrift for a couple of hours.
Folies Bergère Quotes
There are no approved quotes yet for this movie.