Following Sean
(2006)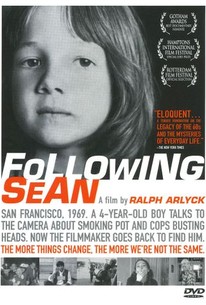 Movie Info
A child's perspective on the Haight-Ashbury counterculture of the 1960s informs filmmaker Ralph Arlyck's film concerning the perceptive and precocious four-year-old and his unique perspective on the chaos that was sweeping a nation. A student at San Francisco State University at the time when police in riot gear flooded the campus and revolutionary-minded idealists waxed poetic in the streets, Ralph Arlyck was befriended by a young boy named Sean who would occasionally come down from his mother's top-floor apartment to chat with the various inhabitants of the come-one-come-all commune. When Arlyck one day decided to turn on his camera during one of young Sean's frequent visits, the images and thoughts Arlyck captured on film would perfectly encapsulate the dying innocence of the era. Now, 30 years later and generations removed from that tumultuous time, Arlyck returns to San Francisco to seek out Sean and find out just what became of the barefoot four-year-old whose strange mix of childlike wonder and worldly viewpoints gave curious birth to a new hope for the future of a country on the brink.
Critic Reviews for Following Sean
Audience Reviews for Following Sean
Following Sean is a good little documentary about Ralph Arlyck going back and meeting Sean Farrell 30 years after he interviewed him when he was just a kid. Sean was born into a family that decided to move to Haight St. in San Francisco. Sean's father Johnny was a hippy who wasn't going to work for the man and he continues to be the same person to this day. The interest factor in Following Sean comes into play when you see the man Sean grew up to be. After the first interview, Sean's parents got a lot of flack and even their parents thought that their kids, including Sean, would be criminals or drug addicts. That however isn't the case and it's really interesting just how different Sean is from his father.
Melvin White
Super Reviewer
Amazing doc. It's got plenty of subjects to examine. Now I wanna see 'Sean'
[font=Century Gothic]In the 1960's filmmaker Ralph Arlyck lived for a time in the legendary Haight-Ashbury neighborhood of San Francisco. While there, he befriended a 4-year old boy, Sean Farrell, who he made a documentary about. "Following Sean" is a documentary Arlyck made about his return to San Francisco thirty years later to find out whatever happened to Sean. And the results are not pretty, least of all because Arlyck rips off the "7-Up" series in the process.[/font] [font=Century Gothic][/font] [font=Century Gothic]In love with his own droning voice, Arlyck is bitter about his whole experience in San Francisco(he reveals too much about his personal life which only makes him seem a little pathetic) where he was present for history as it was being made, some of it he caught on film.(C'mon, man. At least, admit you had a little fun.)The fact that Sean turns out to be so well-adjusted destroys Arlyck's thesis that the 60's had a toxic legacy.(I do respect him for not romanticizing the era but this is ridiculous.) So, he turns his anger against Sean's father who is a bit of a drifter and takes him to task for his lack of a work ethic. But unless you are a public servant, your life will not be defined by your job.(I would love to sit on a beach all day and write hideously bad poetry but I am too materialistic for my own good.) [/font] [font=Century Gothic][/font]
Following Sean Quotes
There are no approved quotes yet for this movie.