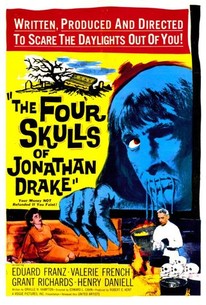 The Four Skulls of Jonathan Drake
1959, Horror, 1h 10m
1 Reviews
50+ Ratings
Where to watch
Rent/buy
Rent/buy
Rate And Review
The Four Skulls of Jonathan Drake Photos
Movie Info
Anthropologist Jonathan Drake (Eduard Franz) believes that the men of his family have been cursed for generations by the native South American tribe he studies. Shortly after his brother, Kenneth (Paul Cavanagh), discovers one of the tribe's shrunken heads in his house, he's found murdered and his head goes missing. In pursuit of the tribesman Zutai (Paul Wexler) and a rival scientist (Henry Daniell) who has become a part of the tribe, Drake attempts to end the curse once and for all.
Audience Reviews for The Four Skulls of Jonathan Drake
First time I saw this was when it was shown on WPIX or WOR when I lived out on the Island. Came on late night on Chiller Theatre, man how I used to love to stay up and watch that program. This movie is pretty cool, a family has a curse on them, and Jonathan is the last brother alive and his skull is needed to complete the curse. It seems shrunken heads keep popping up in this movie. Jonathan shows up in South America to help his brother only to find his brother is dead. Unknowing to anyone at the time a South American Indian whose lips are sealed shut with a sneaker lace stuck him in the neck with a poison Bamboo Knife,(yea go figure on that one). Anyway at the funeral Jonathan wants the coffin open, and wham when its open the old brother is missing his head. Now there is a Witch Doctor running around posing as a doctor, again not know to use is that he is a witch doctor who has a white man's head on a Black Man's Body, hence the witch doctor. And that?s who is trying to complete the curse, and who is shrinking heads. The detective running around is about as smart as a box of cheerio?s. All in all it was an enjoyable B&W film, I'd like to give it 3 1/2 stars, they just don't make them like this anymore. Its added to the collection.
See Details