Games of Love and Chance (L'Esquive)
(2005)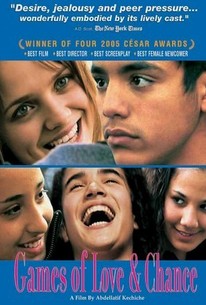 Games of Love and Chance (L'Esquive) Photos
Movie Info
Krimo schemes his way into acting in a play in order to get closer to Lydia, the divaesque lead actress, whom he loves. This is not your typical high-school comedy, however, but a reality-based romance set in the housing complexes that ring Paris. The inhabitants are mostly disadvantaged North Africans and the play is an 18th-century comedy whose language is as far from French slang as Shakespeare is from rap.
Rating:
NR
Genre:
, , ,
Directed By:
Written By:
In Theaters:
On DVD:
Runtime:
Studio:
New Yorker Films
Critic Reviews for Games of Love and Chance (L'Esquive)
Audience Reviews for Games of Love and Chance (L'Esquive)
I had several problems with the film L'Esquive. There were some good things about it, but there were some things I could not get past. All of the problems I had with this movie were because the point of the movie was to be real, but there were parts that were not realistic. The thing that bothered me the most was the incessant arguing. I have no problem with the fact that they were arguing, but the way it was done was wrong. I felt like either side in an argument were just throwing out words rather than actually responding to what the other person was saying. It became apparent during the argument between Lydia and Frida. I noticed it in the dispute between the shop owner and Lydia at the beginning of the movie as well. There were several other parts that this happened including the confrontation of Magali and Lydia's friends. There was no attempt at debate. It was just shouting, and it did not seem very real to me. The arguing was such a large part of the movie, yet to me, it was not done very well. I also think it lacked any emotional connection to the characters and the audience. It really never developed the relationships between any of the characters in the movie except Lydia, Nanou, and Frida. However, those three were constantly fighting so it was still difficult to interpret their relationship. The relationship between those three was one that they all looked out for each other. None of the other characters seemed like they were that close. It did not describe how they met or why they are friends, other than the fact that they look after one another, but it never explained why they chose each other to be friends, and not any of the other people. Therefore, the audience lacked a connection to the characters. As a viewer, I felt distanced from the people in the movie. I think many people would say it was boring because you, as a viewer, were not involved. I could have cared less about the outcome of the relationship between Krimo and Lydia. It accomplishes some good things in its cinema verité style, but it is poorly executed in the end.
Garrett Ahmad
I absolutely love it. It's a deeply moving coming of age story that takes place in the banlieue. Does an excellent job at evoking the tough nature of what that kind of life is like while also taking into account the normal, universal things we all go through.
Coco Marie
Games of Love and Chance (L'Esquive) Quotes
There are no approved quotes yet for this movie.
Discussion Forum
Discuss Games of Love and Chance (L'Esquive) on our Movie forum!