Gatos Viejos (Old Cats)
(2011)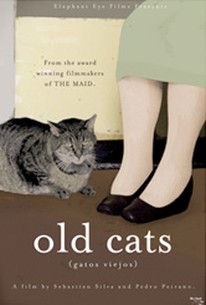 Gatos Viejos (Old Cats) Photos
Movie Info
Drugs, money, and failing relationships irritate the already difficult relationship between an elderly woman and her daughter in this comedy drama from the writing and directing team of Sebastián Silva and Pedro Peirano. Isadora (Bélgica Castro) is in her nineties and shares an apartment stuffed with a lifetime of memories and souvenirs with her second husband, Enrique (Alejandro Sieveking). Isadora is starting to sink into senility, and her poor health makes it hard for her to leave the flat, so Enrique must look after her. Before long, Enrique gets some assistance from Rosario (Claudia Celedón), but it's not the sort of help he wants; Rosario has a weakness for cocaine and a long history of launching failed get-rich-quick schemes, one of which has just bottomed out. Rosario's idea of coming to the rescue involves claiming power of attorney over her mother and selling her flat out from under her, which will provide them both with a quick influx of cash but no security for Isadora and Enrique. As Isadora and Rosario argue about who controls the older woman's fate, Enrique and Rosario's lover, Beatrice (Catalina Saavedra), find themselves caught in a long-simmering family rivalry. Gatos Viejos (aka Old Cats) received its North American premiere at the 2010 New York Film Festival.
Critic Reviews for Gatos Viejos (Old Cats)
Audience Reviews
There are no featured reviews for Gatos Viejos (Old Cats) at this time.
Gatos Viejos (Old Cats) Quotes
There are no approved quotes yet for this movie.