Gentleman Jim
(1942)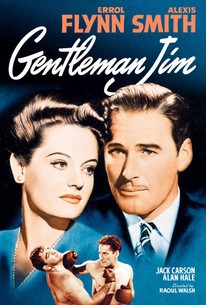 Movie Info
This is a loosely structured biopic about 19th-century bare-knuckle boxing champion James J. Corbett.
News & Interviews for Gentleman Jim
Critic Reviews for Gentleman Jim
Audience Reviews for Gentleman Jim
Back in the day the Irish were as lovingly mythologized as the Brits in Hollywood movies, and this Roaul Walsh film is no exception, as Errol Flynn, in fine form, plays the social climbing upstart of a man who took boxing from brawling to an art form. Warner Bros. was in its heyday and this brash, impertinent, raucous work exults in its vigor. Ward Bond too shines in one of his better roles as the great John L. Sullivan.
Kevin M. Williams
Super Reviewer
½
A pretty good boxing movie, it's set in the past, in England (I think). I saw it on TV, and it looked good enough, but I got kinda bored with it in some scenes.
A Warner Brothers classic, that richly deserves a place among the pantheon of great boxing films, it tells the true-life story of James J. "Gentlemen Jim" Corbett, the colorful Irish-American boxer who became the first heavyweight champion of the world, under the new Marquis of Queensberry rules. The story follows Corbett played by Errol Flynn who delivers one of the finest and most charismatic performances of his career, as a ambitious bank clerk in San Francisco, who thru chance will fight the ex-boxing champion of England and win. That will eventually lead to a fearsome fight with the heavyweight champion of the world, the great John L. Sullivan a legendary ring king played by Ward Bond in brilliant larger-than-life performance which is one of the finest moments in his distinguished career. The film is also a fascinating look at the early days of boxing as a outlaw sport, with some exciting and realistic fight sequences, which well-staged and are highly effective. Flynn was actually an accomplished boxer and you can see it was him doing all of his stunts and no doubles, this role was Errol Flynn's favorite, he trained rigorously to master Corbett's gliding footwork, his deft jabbing and lighting left-hooking that were all Corbett trademarks. Magnificent supporting performances from Alexis Smith, Jack Carson, Alan Hale, William Frawley, Minor Watson, and John Loder. Superlative direction by Raoul Walsh and impressive production values, convincingly recreating San Francisco circa 1887. A Knockout entertainment. Highly Recommended.
Danny Rovira
Super Reviewer