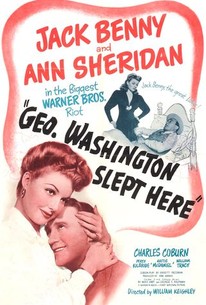 George Washington Slept Here
1942, Comedy, 1h 33m
2 Reviews
500+ Ratings
Where to watch
Rent/buy
Rent/buy
Rent/buy
Rate And Review
George Washington Slept Here Photos
Movie Info
Connie Fuller (Ann Sheridan) surprises her stubborn husband, Bill (Jack Benny), by purchasing a dilapidated house in the countryside where George Washington was once rumored to have slept. Moving into the "fixer-upper," the Fullers are joined by Connie's sister, and her rich uncle (Charles Coburn) who turns out to be broke. Nearly broke themselves from all the repair work, the Fullers are further troubled by a neighbor who wants their property at any cost.
Genre: Comedy

Original Language: English

Director: William Keighley

Producer: Jerry Wald

Writer: Everett Freeman

Release Date (Theaters): original

Release Date (Streaming):

Runtime:

Distributor: Warner Bros. Pictures

Production Co: Warner Brothers/Seven Arts
Audience Reviews for George Washington Slept Here
William Keighley directed this adaptation of the Kaufman and Hart stage play, and it was released in late 1942. I read that Jack Benny's role was changed to fit his recognizable comic persona. In the play, Bill Fuller is as excited to move to the country as his wife Connie is. In this movie adaptation, Bill likes living in apartments in New York City and foresees the money pit that a colonial home in upstate New York can become. Jack Benny's altered character blends in believably to the existing story. His wife, played by the radiant Ann Sheridan, is the one who longs for a more settled lifestyle of home-ownership and is sold on a particular fixer-upper because supposedly "George Washington slept here." There is lots of good slapstick humor as Bill discovers everything in the house is falling apart, there is no water, and a neighbor claims ownership of the road and well. Mr. Kimber (Kilbride) is the caretaker of the property and his mounting expenses and slow country ways irritate Bill further. Bill's in-law Uncle Stanley (Coburn) comes to visit once they are settled in better. At first he is another annoyance, then a potential financial savior, then his secret of being broke since the depression is revealed, and yet he becomes one of the many allies the Fullers have against the mean neighbor. A local historian disillusions Bill and Connie by telling them the house was more likely visited by Benedict Arnold in a great punchline. Still the movie includes a patriotic message because of the year in which it was made. See it for Kaufman's and Hart's funny jokes and situations though.

The great Jack Benny complaining for an hour and half about having to live in country rather than the city. Lots of great laugh out loud moments, but the story wraps up so fast I got really confused. It was like Benny really had to get back to NY and they only had one day left to shoot and 30 pages of script, so they just cramme it all in. Still a really fun watch, such a simplier time.

The pre-cursor to "Mr. Blandings Builds His Dream House" is a little more humorous, due primarily to the the performances of Jack Benny and the offbeat supporting cast. The "wealthy" uncle, the bratty nephew, it seems the wife's inlaws all come to vex Benny, but their annoyances are minor compared to that of the actual house. Benny sometimes delivers his lines like he's still doing radio (rather than acting on the screen) and those lines don't always work either. Benny's not exactly known for his acting chops anyway. The plot might be a little weak as well, there's very little substance and it doesn't ever try to be more than light comedy (but then again, who cares). Much as I love Benny, I have to say he's not at his best here. Who is at his best is Percy Kilbride, the man who would one day become Pa Kettle. He has some of the best scenes in the movie. Although comedically superior to Mr. Blandings, it's not quite as good as Blandings.
See Details