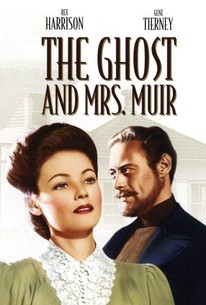 The Ghost and Mrs. Muir
1947, Fantasy, 1h 44m
20 Reviews
5,000+ Ratings
Where to watch
Rent/buy
Rent/buy
Buy
Rate And Review
The Ghost and Mrs. Muir Photos
Movie Info
Defying her conventional in-laws, young widow Lucy Muir (Gene Tierney) leaves London with her young daughter and moves away for a quieter life in a secluded seaside cottage. Lucy discovers the ghost of the deceased former owner, sea captain Daniel Gregg (Rex Harrison), is haunting the house, but gathers the courage to stand up to him, and woman and ghost become friends. Faced with dwindling means of support, Lucy agrees to the Captain's challenge to write his colorful life story.
Audience Reviews for The Ghost and Mrs. Muir
A near perfect Gothic romance. It embraces all of the trappings of the genre but never does so without neglecting the characters. That Bernard Herman score is gorgeous, truly one of his best.

What a unique feeling this film gives me. What we're expected to believe is so unrealistic, that this widow (Gene Tierney) rents out a cottage haunted by the ghost of an old sea captain (Rex Harrison), that she can see him and yet never tries to touch him, that she puts up with him sleeping in her bedroom, and that the two have what seems to be a normal relationship. And yet, within this world that director Joseph L. Mankiewicz creates, there is such earnestness in the performances, and such atmosphere in this foggy old seaside cottage, that we find ourselves drawn in. Tierney and Harrison are both wonderful, and such contrasting characters. He helps her deal with her dead husband's mother and sister, and she helps him type up the story of his life, offering suggestions along the way. I loved his saltiness, with the subtle hints of his ribald life in the book's narration slipped in under the production code, and his sailor's language seeping in to Tierney's. The smaller roles are interesting as well, including Edna Best as the sassy housekeeper, and little 8-year-old Natalie Wood as her daughter. When she meets a 'real life' man (George Sanders) who begins wooing her, an odd sort of love triangle forms. Sanders' character is a gentleman and an intellectual, and says things like this, the first day they meet and it's raining: "It's easy to understand why the most beautiful poems about England in the spring were written by poets living in Italy at the time." The film could easily have been bungled, either by its premise, or by becoming too melodramatic. I think the class with which the cast play their parts is a big part of the success. The way Mankiewicz filmed a couple of touching scenes between Tierney and Harrison is also memorable. This one is for those who like romance and fantasy.

With a moving score by Bernard Herrmann, this atmospheric piece of cinema becomes one of the great screen romances, ocean waves poetically shown crashing against the shore to relay the passage of time. A widow and her daughter move into a lonely seaside cottage reportedly haunted by the ghost of an old sea captain. But is it? Tierney and Harrison are most sympathetic here as a pair of lonely people who find each other no matter what.

This is a charming and romantic period piece with two truly great actors portraying the Ghost: Rex Harrison and Mrs. Muir: Gene Tierney. It is funny, poignant and sad all at the same time and definitely provides a few laughs and a good cry!
See Details