The Girl Can't Help It
(1956)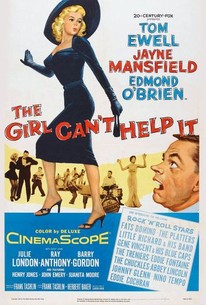 The Girl Can't Help It Photos
Movie Info
In this satirical comedy, mobster Fats Murdock (Edmond O'Brien) wants his talentless girlfriend, Jerri Jordan (Jayne Mansfield), to become a star, so he hires Tom Miller (Tom Ewell), an unsuccessful agent, to do just that. As Tom and Jerri work together to make her a rock & roll sensation, they begin to develop more than a working relationship. This film features appearances by Fats Domino, Gene Vincent, Eddie Cochran, and Little Richard.
Critic Reviews for The Girl Can't Help It
Audience Reviews for The Girl Can't Help It
½
Lennon and McCartney saw this as teens and it inspired them to perform. Amusing satire of 1950's culture, this film is more a showcase of rock & roll talent of the day than the promotion of Jayne Mansfield it was supposed to be. Jayne appears in this film every bit a caricature of Marylne Monroe who preceeded Jayne's popularity. [img]http://www.shopssl.de/WebRoot/Store/Shops/es114516_HD-Shop/4C14/8257/AE4A/FA7A/D716/50ED/8961/2B50/TheGirlCantHelpIt.jpg[/img] The film was hugely popular among audiences and was one of the year's biggest hits and made Mansfield into a mega film star. SEE the entire film here: http://www.youtube.com/watch?v=soxN55f7fzU Despite the obvious impressions of Monroe, intended or not, the film was a hit with me and Mansfield was no disappointment. I laughed in many scenes, especially the first minutes of the film where every male drools over the girl who can't help it. [img]http://www.smh.com.au/ffximage/2006/09/22/TheGirlCant_060921014242435_wideweb__300x233,1.jpg[/img] In a business that thrives on image and typecasting, Mansfield's chances of escaping the inevitable comparisons to Marilyn were next to impossible. Despite early Hollywood triumphs like The Girl Can't Help It and the film version of Rock Hunter, Mansfield's gifts were eventually perceived as limited, and her career quickly fell to pieces after 1960. Watch for the numerous cameos of rock bands of the day, this film is known for showcasing them in glorious color. Includes Little Richard and many others, see the cast below. Reportedly, the producers had wanted Elvis for The Girl Can't Help It, but Elvis's manager Tom Parker had demanded too much money. [img]http://cache2.artprintimages.com/LRG/40/4029/8KQWF00Z.jpg[/img] REVIEWS by the unsung: 70% A gangster hires a theatrical agent to make his girlfriend a singing star. This movie has two good points and they are Jayne Mansfield. 80% My GAWD! is this film fun! Easily it's one of the best Rock 'N Roll Musicals coming out of the late 50's, having style, witty humor and tremendous act... [img]http://www.dga.org/Craft/DGAQ/All-Articles/0902-Summer-2009/~/media/Images/DGAQ%20Article%20Images/0902%20Summer%202009/screeningRoom_GirlCantHelpIt06%20jpg.ashx?w=400[/img] Jayne Mansfield, the closest competion to Monroe NOTES: 1 The movie was originally intended as a vehicle for the American sex symbol Jayne Mansfield, with a satirical subplot involving teenagers and rock 'n' roll music. The unintended result has been called the "most potent" celebration of rock music ever captured on film. 2 The film reached Liverpool, England in the early summer of 1957. ... fascinated a 16-year-old John Lennon by showing him, for the first time, his "worshiped" American rock 'n' roll stars as living humans and thus further inspiring him to pursue his own rock and roll dream. 3 McCartney demonstrated his musical prowess to Lennon by performing "Twenty Flight Rock" in a similar manner to the way he had seen it played by Eddie Cochran in The Girl Can't Help It. 4 Elvis Presley's famous performance of the song "Jailhouse Rock" in the movie of the same name (often cited as the first music video) released one year after The Girl Can't Help It bears a remarkable resemblance to the theme and performance of a song called "Rock Around the Rockpile" from the earlier movie. O'Brien even includes some of the hip-swiveling and leg motions for which Elvis became famous. [img]http://3.bp.blogspot.com/_KGLQ283kPI4/TGQ-U_w9UCI/AAAAAAAAAh4/Y-WfMZJF19M/s1600/4vidGirlLittleRichard.jpg[/img] Little Richard Songs performed in the movie 1."The Girl Can't Help It" - Little Richard 2."Tempo's Tempo" - Nino Tempo 3."My Idea of Love" - Johnny Olenn 4."I Ain't Gonna Cry No More" - Johnny Olenn 5."Ready Teddy" - Little Richard 6."She's Got It" - Little Richard 7."Cool It Baby" - Eddie Fontaine 8."Cinnamon Sinner" - Teddy Randazzo and the Three Chuckles 9."Spread the Word" - Abbey Lincoln 10."Cry Me a River" - Julie London 11."Be-Bop-A-Lula" - Gene Vincent and His Blue Caps 12."Twenty Flight Rock" - Eddie Cochran 13."Rock Around the Rockpile" - Edmond O'Brien; Ray Anthony and his Orchestra 14."Rockin' Is Our Business" - The Treniers 15."Big Band Boogie" - Ray Anthony and his Orchestra 16."Blue Monday" - Fats Domino 17."You'll Never, Never Know" - The Platters 18."Ev'ry Time (It Happens)" - dubbed by Eileen Wilson, lip-synched by Jayne Mansfield 19."Giddy Up a Ding Dong" - Freddy Bell & The Bell-Boys [img]http://www.john-odowd.com/wp-content/uploads/ramage/mansfield.jpg[/img] Jayne Directed by Frank Tashlin Produced by Frank Tashlin Written by Frank Tashlin Herbert Baker Starring Tom Ewell Jayne Mansfield Edmond O'Brien Henry Jones Julie London [img]http://www.eddiecochran.info/Picture/Biography/Eddie_Cochran_VIII.jpg[/img] Eddie Cochran Music by Bobby Troup Cinematography Leon Shamroy Editing by James B. Clark Distributed by 20th Century Fox Release dates December 1, 1956 Running time 99 minutes Country United States Language English Budget $1,310,000 Box office $6,250,000 [img]http://www.julielondon.org/J/The_Girl_Cant_Help_It_files/The%20Girl%20Can't%20Help%20It%20Poster%209.jpg[/img]
monsieur rick
½
A gangster hires a theatrical agent to make his girlfriend a singing star. This movie has two good points and they are Jayne Mansfield. The film contains many performaces by 1950s era rock and rollers Little Richard, Fats Domino, The Platters and many others. Throw in numerous instances of bawdy sexual innuendo and slapstick gangster humor makes this film a fast paced musical-comedy.
John Tandlich
It was ok. The music was the big hit. Jayne was beautiful, but it was a very silly move and role. I didn't know she died at 34 in a car crash, and that semi trucks must now have bars at the back of the truck (also called Mansfield bar) to prevent cars from going under semis in a crash, until I looked her up while watching the movie. :(
Kim W
The Girl Can't Help It Quotes
There are no approved quotes yet for this movie.
Discussion Forum
Discuss The Girl Can't Help It on our Movie forum!