Girls Trip
(2017)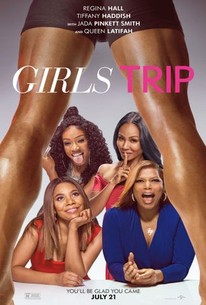 TOMATOMETER
AUDIENCE SCORE
Critic Consensus: Girls Trip is the rare R-rated comedy that pushes boundaries to truly comedic effect -- and anchors its laughs in compelling characters brought to life by a brilliantly assembled cast.
Movie Info
When four lifelong friends-Regina Hall, Queen Latifah, Jada Pinkett Smith and Tiffany Haddish-travel to New Orleans for the annual Essence Festival, sisterhoods are rekindled, wild sides are rediscovered, and there's enough dancing, drinking, brawling and romancing to make the Big Easy blush. James Lopez, head of motion pictures for Will Packer Productions, and Preston Holmes, executive produce.
News & Interviews for Girls Trip
Critic Reviews for Girls Trip
Audience Reviews for Girls Trip
½
I don't understand the high rating. Though the end message was nice and empowering, the middle was an absolute mess. Crude for the sake of it, not funny, don't even start me on the pissing scene. I actually really hate how any girls night comedy has to involve drug scenes and heavy drinking and people behaving like animals. It's just really lazy story telling and it's not funny either. I'm not a prude and swearing doesn't bother me, but less is more. The heavy drama scenes with swearing would have carried more weight if the character didn't speak like that constantly. Honestly I found a lot of this nasty. Boring too. Which is a shame because handled differently, this movie could have been good.
Nicki Marie
Super Reviewer
½
BREAKFAST, LUNCH AND DINNER AT TIFFANY'S - My Review of GIRLS TRIP (3 1/2 Stars) Inconsistent and overlong by a good 30 minutes, GIRLS TRIP, from director Malcolm D. Lee (BEST MAN HOLIDAY) with a screenplay by Kenya Barris and Tracy Oliver, nevertheless so many filthy laughs and so much heart and black female empowerment, that it's an instant classic of sorts. But let's face it, this film wouldn't be anywhere near as fun without the superstar-making performance by Tiffany Haddish. Owning every minute of the film, she's a cross between the bawdiness of Millie Jackson (GOOGLE her!) and the helium voice of Wanda Sykes, but with her own take-no-prisoners flair. More on that later. Regina Hall plays Ryan Pierce, an Oprah in the making who, along with her philandering husband Stewart (Mike Colter), stand at the precipice of great success. With a weekend ahead of them where Ryan will serve as the keynote speaking of the Essence Festival in New Orleans, she decides to reunite her college besties, known as the Flossy Posse, and take them along. It's a chance to bond and potentially address some long-simmering issues they've shared. Queen Latifah plays Sasha, a once promising journalist who now traffics in celebrity gossip, and who currently faces financial disaster. Jada Pinkett Smith plays Lisa, the uptight single mother who desperately needs to cut loose. Haddish is Dina, all walking id in tight color-blocked outfits and killer Louboutins, who calls it as she sees it, typically with as many sexually graphic details she can fit into each breath. As Ryan's Agent Elizabeth, Kate Walsh hilariously gets dressed down for trying to appropriate the Urban Dictionary to prove she can hang. Despite Ryan's marital problems, Elizabeth wants Ryan to put up a good front so that they can ink a lucrative deal. It's this deception which provides the forward thrust of the story, as each friend reacts to Ryan's decisions, testing their friendships and their own approaches to life. As such, it's a loving homage to the importance of surrounding yourself with people who truly know you. This aspect of the film will likely make you feel good, but it's doesn't break new ground and won't be what you remember the most. That would be the many outrageous set pieces, which involve huge amounts of bodily fluid, 90's vs. present day dance battles, drunken hallucinations, and a particularly innovative use of a grapefruit and a banana. Hall, Latifah and Smith all get their chances to shine, each with very well-defined characters and their share of laughs, but I'm certain we'll all look back on this as Haddish's moment of becoming a star. She's had prior moments in film and tv, such as her great turn as Hi-C in KEANU as well as a few seasons on THE CARMICHAEL SHOW, but GIRLS TRIP will be for Haddish what THELMA AND LOUISE was for Brad Pitt. She had me from the word go, but when she says "booty hole" early in the film, I knew we were in for something special. It's a lethal combination of charm and danger. Yes, it's over-the-top, but it's exactly what's needed to keep things from getting too mushy. What's rare here is that you honestly believe the friendships and what's at stake. There's a quiet ache amongst the women, giving this film a thrilling sense of sisterhood. How often do you get to see a film where friends truly celebrate each other? The men in the film do well, particularly a charming Larenz Tate as an old friend of Ryan's, but this film is all about Girl Power. Again, this isn't a piece of art. Despite a true sense of fun and crazy energy, Lee simply gets out of the way of his cast, delivering a competent but not exactly inspired display of filmmaking. It also overstays its welcome. At 122 minutes, it suffers a bit from Judd Apatow syndrome. But, let's say it all together, we'll always have the zip line scene...and sometimes that's good enough.
Glenn Gaylord
Super Reviewer
½
Comedy films should know where they should be going whenever it comes to laughter. Unfortunately, Girls Trip is little to hardly any laughs whatsoever, but it's still watchable regardless of the absent of laughs. Also please keep in mind that Girls Trip also is very sensitive to viewers that are not expecting to laugh at comedy films so it makes it fair to give it the score it deserves.
EpicLadySponge the Adventurer
Super Reviewer
Girls Trip Quotes
There are no approved quotes yet for this movie.
Discussion Forum
Discuss Girls Trip on our Movie forum!