Goddess
(2013)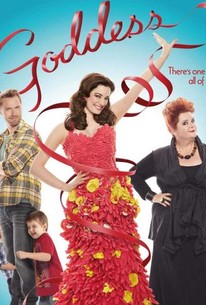 Movie Info
Elspeth Dickens dreams of finding her "voice" despite being stuck in an isolated farmhouse with her twin toddlers. A web-cam becomes her pathway to fame and fortune, but at a price.
Critic Reviews for Goddess
Audience Reviews for Goddess
Hated it. Lasted 20 minutes. I think you could safely say I am not the target audience for this. I had no sympathy for Elspeth whatsoever.
Nicki Marie
Super Reviewer
Finally buoyant and upbeat romantic musical... I waited so long! This one is based on the original stage play Sinksongs, written and performed by Joanna Weinberg with music for the film written by Joanna Weinberg, Bryony Marks and Jude Morris. Directed by Mark Lamprell, this Australian film stars Laura Michelle Kelly, who won 2005 Olivier Award for Best Actress in a Musical, singer Ronan Keating and Magda Szubanski. Perfect combination of English, Irish and Australian stars provides everything you need to be entertained for 104 minutes without even wishing for a toilet break! Who cares about Venti Latte, I didn't want to miss a second of this enjoyable movie. [img]http://upload.wikimedia.org/wikipedia/en/5/50/Goddess_film_poster.jpg[/img] The story of the English woman Elspeth Dickens (Laura Michelle Kelly) who dreams of finding her "voice" despite being stuck in an isolated farmhouse with her twin boys (Pheonix and Levi Morrison) was an inspirational one. A webcam she installs in her kitchen becomes her pathway to fame and fortune, making her a cyber-sensation. And while her husband James (Ronan Keating) is off saving the world's whales, Elspeth is offered the chance of a lifetime. But when forced to choose between fame and family, is the newly-anointed internet goddess going to lose it all? I am really not sure why directors waited so long to give Laura Michelle Kelly a leading role in a feature film? She has been performing on London's West End for more than a decade but this marks her first! I was charmed by Kelly's beautiful voice and happy-go-lucky nature... and I wish her many more roles like this. The experience Magda Szubanski had a chance to sing as well, and it was funny - that is right - she is a funny comedian - I am glad it was just A song. This is not a perfect movie, don't expect anything which will go deep into marriage relationship problems, answer questions why didn't she try to solve the conflicts when they began, why she didn't do this or that... this is a movie with brilliant colours which will help you to feel good, make you believe in love, and be grateful for the simple things you have in life. My kind of movie.
Goddess Quotes
There are no approved quotes yet for this movie.