Godzilla 1985
(1985)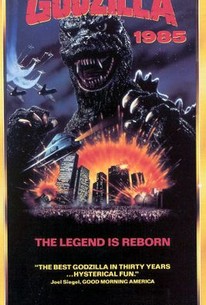 Movie Info
Ever since the 400-foot Japanese lizard-monster Gojira -- translated to Godzilla and great box-office success in the Western world -- first stomped across buildings on the silver screen, there have been remakes and new makes of the monster's story. The most intriguing title may yet be Godzilla Meets the Mona Lisa (also 1985). This 1985 release by Koji Hashimoto resuscitates the monster who is first seen wreaking havoc off the coast of Japan when it downs a ship leaving only one survivor to tell the tale (Shin Takuma). Who should come along in the nick of time but a young newspaper reporter (Ken Tanaka), and the two of them make it onto dry land with a mission to warn the nation that danger lies off-shore. Similar to the original film, other dangers are brought forward when Godzilla accidentally sets off a nuclear disaster and the heads of state have to meet to decide what to do. The heroes busy themselves with saving the world, as Godzilla crunches Tokyo down to ground level. Neither campy and covertly political like its venerable ancestor, nor hip and inventive like many modern "monster" films, this Godzilla is a weaker manifestation of his first appearance on the world's screens.
Critic Reviews for Godzilla 1985
All Critics (8) | Top Critics (1) | Fresh (1) | Rotten (7) | DVD (3)
The fatal flaw in Godzilla 1985 is that it is a bad movie with aspirations of being a good bad movie.

Stick with the originals instead
January 23, 2003 | Rating: 0/5
Nah, he only seem that old.
July 25, 2002 | Rating: 1/5
Audience Reviews for Godzilla 1985
½
The first entry in many years in a refreshed, rebooted series of monster films is a good entry that brings back elements of old and updated elements which make for a fun and entertaining picture. This is a good reboot that truly erases the mistakes of many of the couple of efforts aside from the final two in the original series. Even with a rejuvenated plot, action and thrills, one must ask how far can the Godzilla franchise go in creating new movies that are better than most in the series. Anyhow, this film is entertaining and has a good plot that is sure to entertain monster film fans. The film is imperfect of course, but with an absence of Godzilla, the filmmakers were able to recreate an iconic monster and add a bit more seriousness to its silly content. Obviously it still includes the bad overdubbing an absurd plot, but that's the fun of it. I really liked it, and it turns to be a decent entry that just manages to be mindless fun that might appeal to fans of the series. Although flawed, it is far better than others that have appeared and it should be seen at least once. The film has traditional elements of the original classic and modernizes it for an 80's audience. The film is imperfect, but it has everything that you've come to expect, it's a monster film through and through and it is a must see for genre fans that are looking effective thrills from start to finish.
½
Just saw the original Burr-less Japanese version. Fan-friggin-tastic; second only to the original "Gojira"! Hopefully we'll see a proper DVD/Blu-ray release soon.
Christopher Heim
Super Reviewer
I saw the original Japanese version. It was fantastic. This is a reboot to the dark and destructive ways of Godzilla. Sure, I enjoyed the time spent with aliens, robots, other monsters etc. But it was nice to take it back to basics. In context of the movie, this is the first time Godzilla has been spotted since the 1954 original. Here, he is a mistake of the humans, and he's here to smash shit up, not protect it. The film is more reminiscent of disaster movies of the era. The Towering Inferno sprung to mind. The film jumps around from scientists, to the Prime Minister of Japan. We get some hard issues to face, as Japan must argue with Russia and America on whether to use nuclear weapons to destroy Godzilla. The effects are incredible. A new suit brings Godzilla to life once more, plus some shots of a detailed animatronic version. The sets are remarkable in their detail and realism. This feels like Godzilla tearing through buildings, and not just models. If you want to keep your Godzilla films serious and dark, just watch the original and this.
Luke Baldock
Super Reviewer
Godzilla 1985 Quotes
| | |
| --- | --- |
| Steve Martin: | Nature has a way sometimes of reminding man of just how small he is. She occasionally throws up the terrible offspring of our pride and carelessness to remind us of how puny we really are in the face of a tornado, an earthquake or a Godzilla. The reckless ambitions of man are often dwarfed by their dangerous consequences. For now, Godzilla, that strangely innocent and tragic monster, has gone to earth. Whether he returns or not or is never again seen by human eyes, the things he has taught us remain. |