Godzilla
(2014)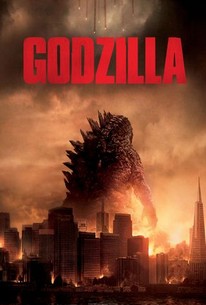 TOMATOMETER
AUDIENCE SCORE
Critic Consensus: With just enough human drama to anchor the sweeping spectacle of giant monsters smashing everything in sight, Gareth Edwards' Godzilla satisfyingly restores the franchise's fire-breathing glory.
Movie Info
In Summer 2014, the world's most revered monster is reborn as Warner Bros. Pictures and Legendary Pictures unleash the epic action adventure "Godzilla." From visionary new director Gareth Edwards ("Monsters") comes a powerful story of human courage and reconciliation in the face of titanic forces of nature, when the awe-inspiring Godzilla rises to restore balance as humanity stands defenseless. (c) Warner Bros
People Who Like this movie also like
News & Interviews for Godzilla
Critic Reviews for Godzilla
Audience Reviews for Godzilla
When it comes to monster movies, very few have given enough substance to become masterpieces. Aside from classics like Frankenstein or the original Godzilla, there really hasn't been a modern-day monster film that shines. They were rejuvenated in the 1980s when films like Jaws or Alien were released, but this particular genre has been dead for quite some time. While this incarnation of Godzilla was by no means great, I found myself quite enjoying my experience with this version of the classic monster. That being said, upon recent viewings, it has begun to die off. Still holding many moments of greatness, there is just something too simplistic and uninteresting with this story and its characters. Here is why 2014's Godzilla is a great monster movie, but an average movie overall. When it comes to blockbuster movies, screenplays never seems to really be finished. Unless you have a set story, there really is no telling when the studio will finally "O.K." a draft. When looking back on this film, I genuinely wonder what writer Max Borenstein was thinking when he came up with this premise. There really isn't much to this story. Thinking they killed the monster back in the 1950s, he rises up again, but he is not alone. That is literally the plot, along with some disposable side characters throughout most of this film. Godzilla is the backdrop and really doesn't do anything until the final ten minutes of this picture. There have been plenty of great films to only feature its creature in the final moments, but they have also contained fantastic characters. Godzilla is a bunch of disposable characters running away from a monster that is hardly ever shown, but the wait is most definitely worth it, which is frustrating. Without giving anything away for those who have yet to see this film, Godzilla begins with a few main characters, most of which are disposed of and killed off in the first act of this film. That right there is cause for concern. Aaron Taylor-Johnson and Elizabeth Olsen have a bit of likability when on-screen together, but that is completely thrown away, focussing almost solely on Johnson's portrayal of Ford, who is placed right in the middle of the chaos, because he is the only who who can diffuse a bomb. Yes, a film like this needs a level of realism and people to relate to, but the people you can relate to are left on the sidelines, while the main focus is on people that have no problem pulling off the impossible. There were many imbalances in my opinion. The main reason audiences go to see a Godzilla film is obviously to see Godzilla, and although there really isn't all that much of him here, his presence is more than worth the wait. The visuals of him are spectacular and his action sequences are action-packed. The fact that the sequences involving Godzilla are note-worthy, I can say that this film is worth checking out, but that is about the biggest compliment this film can be given. When a film promises a giant monster, it needs to deliver on that aspect tenfold, and if you are patient enough, I believe that it does. For the action sequences alone, this is a very solid film, but that is where its greatness ends, sadly. Back in 2014 when I was sitting in the theatre experiencing this film for the first time, I found myself incredibly entertained. Sure, the flaws were presents, but I was very forgiving of them, due to the awesome sequences in the finale. That being said, that excitement has sadly died down a bit. The finale is still incredibly awesome to experience, but the film leading up to that just feels too dull and slow. There isn't much of a story and the characters are pretty uninteresting for the most part, but it's worth the wait. In the end, I still mildly enjoy this film as a whole, but the only portions to love are the ones that include the monster in the forefront, which isn't often enough. For all of these reasons and more, 2014s Godzilla is extraordinarily average.
Despite the talented director and cast, this is an incredibly dull and poorly directed movie with serious pacing issues, empty characters and blatant incoherences, while its original raison d'être as an allegory is simply discarded in favor of a forgettable, pointless reimagining.
Carlos Magalhães
Super Reviewer
A return to glory for "Godzilla" after recent stumbles but when Cranston's not on screen, the humans become a chore to listen to or care about. Could've benefitted by having more Godzilla on screen, but nevertheless not a complete waste of time
Tony Gandía
Super Reviewer
Godzilla Quotes
| | |
| --- | --- |
| Dr. Ishiro Seriwaza: | We call him...... ???! |
| | |
| --- | --- |
| Vivienne Graham: | The top of a primordial ecosystem, a god for all intents and purposes. |
| Ford Brody: | A monster |
| | |
| --- | --- |
| Dr. Ishiro Seriwaza: | The arrogance of men is thinking that nature is in our control, and not the other way around. |
| | |
| --- | --- |
| Team Member #2: | Is the bridge secure? |
| Team Member #3: | [Incoherent Screaming] |
Discussion Forum
Discuss Godzilla on our Movie forum!