Godzilla Vs. Destroyah
(1999)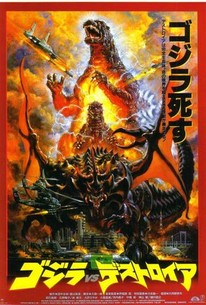 AUDIENCE SCORE
Critic Consensus: No consensus yet.
Godzilla Vs. Destroyah Photos
Movie Info
Everybody's favorite Tokyo-trashing mutant lizard strikes again. This go-around features not only the big guy, but also his Scrappy-Doo-like companion, Godzilla Junior. On the human side, the film features a teenaged wunderkind whose father not only narrowly survived the green monster's first attack in 1954, but who also studied under famed 300-story mutant expert Dr. Yamane (who was played by Takashi Shimura in the original film). While the nuclear reactor in Godzilla's bowels (don't ask) slides perilously towards meltdown, giving him an unhealthy glow, a nefarious creature from the deep called the Oxygen Destroyer suddenly awakens from a 2.5 billion-year slumber. Soon the two are grappling in Tokyo Bay, taking out much of Yokohama's gleaming new seaside development in the process. Meanwhile, Japanese Self Defense Force unveils the ultra-high-tech Super X III, a massive flying tank-like affair featuring a top-secret freeze-ray designed to rub out city-stomping mutants. Facing competition from Hollywood, Toho Studios announced that this film would be the last installment of the series. That is until Roland Emmerich's awful Godzilla reached Japanese shores. The outrage of this inferior American import proved to be so great that Toho quickly resuscitated the series with Godzilla 2000. ~ Jonathan Crow, Rovi
News & Interviews for Godzilla Vs. Destroyah
Critic Reviews for Godzilla Vs. Destroyah
Audience Reviews for Godzilla Vs. Destroyah
Godzilla vs. Destroyah again is a well structured film that relies on a well written script and effective directing to create the thrills on-screen. I really enjoyed the film, and though it's a fairly average concept, it remains a fun entry that is sure to please fans. Don't expect anything great, but go in expecting something fun, and thrilling that will satisfy your monster film needs. The film has a good storyline. Fans will find lots to enjoy here and the film provides all the usual things that you've come to love about the series. As a monster film, it succeeds well for its entertainment value and action. The movie shows its flaws and there could have been a lot more effort into making a much more memorable entry, but it is understandable after all this is the 22th feature, and how far can you stretch out ideas. Despite this, they manage to deliver something good, worthwhile and amusing. The direction is fluent and confident and the director manages to make the film's flaws, less apparent by making it thrilling with the usual Godzilla fights. Strap yourselves for another interesting chapter in the franchise that is just as grand as its namesake. The film is impressive enough for a22th film and where most entries fail, this one succeeds at ends up being a worthwhile addition to the franchise and a must see for genre fans. With usual thrills that you've come to expect, Godzilla vs. Destroyah works and is a fine monster film.
Godzilla vs Destroyah is one of the best entries in the 2nd reboot of the Godzilla franchise. Designed to be a direct sequel to the original 1954 film, Destroyah uses several plot elements of the original, such as the Destroyer weapon which killed the original Godzilla. Destroyah had a lot going for it, but it does blatantly rip off several other sci fi films, such as James Cameron's ALIENS, and it does it badly and without shame. It detracts from the things it does right: Godzilla is a creature created by Nuclear weapons, and now it is on the verge of nuclear meltdown. The world knows if this happens, it could be catastrophic for mankind. They try to replicate the oxygen destroyer which killed the original godzilla to prevent the meltdown, only to create a new, even more powerful monster. Thus setting the stage for a showdown between the two titan kaiju. There is a lot more cheese than I like, and some of the film just doesn't make any sense. But the moments that are done right are fantastic.
Bryan Davis
Super Reviewer
22nd installment and still kicking. This is the climax to the Heisei series. It's quite a beautiful climax, and rather poetic in its relation to the rest of the series. It's the first film with strong connections to the original. It brings back talk of the Oxygen Destroyah, which inadvertently created a new breed of monster. Meanwhile, Godzilla goes on a dramatic journey of character for such a big monster. First of all, he is getting close to meltdown, having absorbed too much nuclear radiation, he may be about to explode. This leaves him with a rather interesting glowing look, Also, he may be about to become a responsible father, as he tracks down his presumably dead son. Toho put a lot of faith into a big rubbery character, but he pulls it off. This is the most emotional since the original, and it still has time for awesome action sequences. Part of me wishes I had watched these years ago, as the city destruction scenes must have seemed even more impressive. Still, it's engaging stuff, and the perfect end to this series.
Luke Baldock
Super Reviewer
Godzilla Vs. Destroyah Quotes
There are no approved quotes yet for this movie.