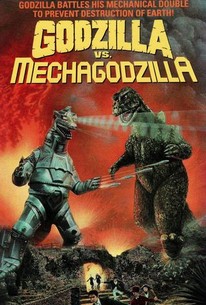 Godzilla vs. Mechagodzilla
1974, Sci-fi, 1h 20m
7 Reviews
5,000+ Ratings
Where to watch
Buy
Subscription
Rent/buy
Rate And Review
Godzilla vs. Mechagodzilla Photos
Movie Info
An Okinawan monster-god helps Godzilla defeat his bionic double.
News & Interviews for Godzilla vs. Mechagodzilla
Audience Reviews for Godzilla vs. Mechagodzilla
After the awful Godzilla vs. Megalon, I had lost faith in the direction of the series. However I was surprised that Godzilla vs. Mechagodzilla was actually a big improvement. Although far from perfect, this is a decent movie that returns to the traditional elements of what made Godzilla films worth seeing. The plot is quite interesting and the fights are fun, entertaining and remind you of the carnage that other films in the series possessed. Godzilla is about the monsters, and with this film, it most certainly delivers what fans expect. I enjoyed the film, and thought it was an amusing film that was worth seeing if you're a fan of the series. If you were let down by the previous entries, this one may give you the entertainment value you are looking for. With a better plot than usual, the filmmakers were able to put the traditional elements of what made Godzilla films good back in the audience perspective. There is of course room for improvement, but at least this is a step in the right direction, and in turn it makes for one of the better films in the franchise's history. With an interesting new monster this time around, and better special effects, Godzilla vs. Mechagodzilla is a welcomed return to form that fans of the series may actually enjoy. Like I said, kit has its flaws, but it is much better than the previous entries that have been made, and it will surely delight long-term fans of the series looking for mindless entertainment.

Godzilla vs a Giant Robot Godzilla. Sounds like fun, right? But guess what....there are cheesy aliens again. And this time, they take cheese to a whole new level. A level cheese should never have gone.

Godzilla vs. Mechagodzilla brings back a more serious tone. Well, as serious as you can be with the Godzilla movies (not including the original). Here we have an alien race of ape-men, creating their own Godzilla. Meanwhile a prophecy speaks of the resurrection of King Caesar. It's a big old monster mash-up with everything I love about these films. It was also well-shot, and stands apart in the sometimes boring human sections. Here, the intrigue is just as exciting as monsters fighting. We also see a rather horrific jaw breaking scene, and the wonders of wakening a monster with a four minute song. Mechagodzilla is a joy, as he doesn't look as ridiculous as some of the monster creations from the past.

Based on the title, you'd think that this was a very simple and self explanatory film, but no, it's actually quite ridiculous and totally nuts. It doesn't make a lot of sense, but then again, this is really not the sort of movie you're supposed to think too hard about, either. It's is quite entertaining and enjoyable though, so give it a watch. The song used to wake up King Cesar is awesome, by the way.
See Details