Gordos
(2009)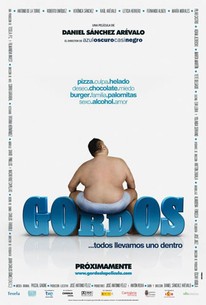 AUDIENCE SCORE
Critic Consensus: No consensus yet.
Movie Info
Six people who use food as a way of dealing with their anxieties work through them together in this comedy-drama from writer and director Daniel Sanchez Arevalo. Abel (Roberto Enriquez) is a therapist who regularly meets with a handful of clients struggling to deal with the physical and emotional problems of being overweight. Enrique (Antonio de la Torre) is an actor best known as the spokesman for weight loss product who is soon to be out of a job now that he's started putting on the pounds; he also wrestling with his sexuality when he begins dating Pilar (Pilar Castro), the wife of his late business partner, after identifying as gay most of his life. Sofia (Leticia Herrero) is married to Alex (Raul Arevalo), a committed Christian who ignores her sexual needs. While Sofia is able to reawaken her husband's libido, when she begins losing weight she finds he's most attracted to heavy women. Leonor (Maria Morales) is a business executive who has turned to food for comfort while her boyfriend is elsewhere. And Andres (Fernando Albizu) is a scientist married to Beatriz (Tete Delgado); they're overweight, their teenage children Luis (Adam Jezierski) and Nuria (Marta Martin) are not, and their issues with food are adding to an increasingly combative relationship with the kids. And as slender Abel tries to guide his clients to healthier and happier lives, he's forced to confront his own issues with fat people when his wife Paula (Veronica Sanchez) balloons out during pregnancy. Raul Arevalo's performance as Alex earned him a Goya Award (the Spanish Academy Award) for Best Supporting Actor of 2009.
Critic Reviews for Gordos
All Critics (1) | Fresh (1) | Rotten (0)
That set-up sounds a bit overweight and it's true Arévalo might have been well-advised to trim it a little, but it's surprising how well he manouevres between the storylines drawing parallels and finding a wealth of tension and humour in each.
Audience Reviews for Gordos
"Gordos" (overweight) is a Spanish film from the director who brought you "DarkBlueAlmostBlack". The movie has wonderful performances and a good script that moves from comedy to drama without realizing it. Pleasant funny film!
Gordos Quotes
There are no approved quotes yet for this movie.