El Gran Calavera (The Great Madcap)
(1949)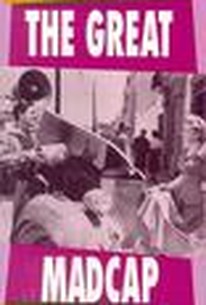 AUDIENCE SCORE
Critic Consensus: No consensus yet.
Movie Info
El Gran Calavera a dark comedy directed by Luis Buñuel deals with a family's attempt to change the spending habit of the indulgent and hedonistic patriarch, Alfredo (Luis Alconira). The family decides to try to fool him into spending less by telling him that his large fortune is gone. He discovers that this is a ruse but -- in order to teach his family that they are all worthless and lazy and to vindicate his own reputation -- he continues to feign ignorance while sneaking off during the day to conduct his very prosperous business. ~ Linda Rasmussen, Rovi
Critic Reviews for El Gran Calavera (The Great Madcap)
Audience Reviews for El Gran Calavera (The Great Madcap)
½
It is hard to believe that one of Buñuel's first films was this silly and inconsistent little comedy that, despite a great performance by Fernando Soler and some funny moments, feels pretty dated with its naiveté and lack of nuance - not to mention a terrible, cringe-inducing ending.
Carlos Magalhães
Super Reviewer
½
"The Great Madcap" starts with Ramiro(Fernando Soler) waking up in the drunk tank at the police station. In point of fact, he has been on a months' long bender since the death of his beloved wife. In the meantime, both employees and family members have taken full advantage of him. However, that all stops when his brother Gregorio(Francisco Jambrina), a doctor, visits and stages a unique intervention. "The Great Madcap" is a witty and amiable satire with more than its share of reversals.(In fact, this could have just easily been called "Reversal of Fortune" as that title had not been taken yet in 1949.) Most surprisingly, the movie is less interested in class with Ramiro a much more admirable sort than many beneath him on the social ladder, as there is a strong anti-parasite stance on display here. And in the end, what would a Luis Bunuel movie be without a couple of jabs at religion?
"The Great Madcap" rivals "Robinson Crusoe" as director Luis Bunuel's most conventional, mainstream-minded film. The premise sounds like something from Frank Capra's playbook. Wealthy executive Ramiro has a slew of worthless employees and family members exploiting his good will. Part of the problem is that he's usually too drunk to care. But when his careless practices reach a crisis point and threaten to permanently drain his fortune, his parasitic relatives decide to set him right by convincing him that his money is already gone. So, the clan implants the lie, moves to the poor side of town and takes menial jobs for show. But Ramiro soon discovers the ruse and flips it -- he starts sneaking back to his office while mischievously letting the others go on toiling in the slums. But there's a feel-good twist: The family's new lifestyle is having a positive effect on their lazy, self-absorbed ways. And Ramiro's daughter -- previously engaged to a upper-crust scoundrel -- is discovering an attraction to a local, good-hearted peasant. Bunuel's stamp is virtually absent from "The Great Madcap" -- the story opens with his typical cynicism about the privileged class, but the characters gradually redeem themselves. A feel-good Luis Bunuel movie? Believe it or not.
Eric Broome
Super Reviewer
El Gran Calavera (The Great Madcap) Quotes
There are no approved quotes yet for this movie.