Groove
(2000)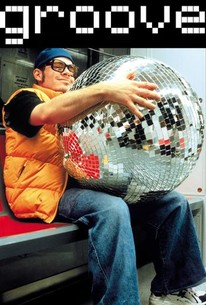 Movie Info
Set during the course of a single evening centering on an illegal rave thrown in a San Francisco warehouse, Greg Harrison's exuberant film is really more a snapshot of the PLUR culture than a real story, but that doesn't matter in the least. Anyone who has attended any club or rave event since the Ecstasy revolution began will recognize all of the characters here: the guy whose roll doesn't start until he leaves, the over-enthusiastic candyraver, the amateur chemist, the smarmy would-be gigolo, the nervous, young DJ, the amateur philosopher, the guys who can never find the party, and so on. Indeed, Harrison doesn't leave a recognizable rave story line untouched, from the young woman (Mackenzie Firgens) who gets a shock when she finds her rolling fiancé (Denny Kirkwood) making out with another guy, to the inevitable self-destructive kid on GHB and nitrous. There's even a police raid and a brief appearance by superstar DJ John Digweed to keep things lively. If the film has a focus, it's the slow, reticent romance which develops between a bookish first-time raver (Hamish Linklater) and a sweet but world-weary rave veteran (Lola Glaudini) who has clubbed all over the world but forgotten to start a real life. It's an interesting commentary on the scene, and Harrison manages to realistically present both the positives and negatives of rave culture without becoming preachy on either count. The film could have easily become an anti-drug polemic on one hand or a rose-colored happycore love-fest on the other, and it is to Harrison's credit that he avoids both extremes. For better or worse, and actually quite a bit of both, this is Glowstick, U.S.A. Love it or leave it. Co-starring Rachel True from The Craft, Steve Van Wormer, Chris Ferreira, and Bing Ching as the memorably insecure DJ Snaz.
Critic Reviews for Groove
All Critics (50) | Top Critics (13) | Fresh (28) | Rotten (22) | DVD (5)
If this movie achieves anything, it makes you realize how dull parties really are.
Washington Post
Top Critic
A little bland, but it puts you in the mood to forgive it: relaxed and mellow and accepting.

Manages to both capture the spirit of a counterculture and reflect on the essentially conventional lives of those who lose themselves in the buzz.

Nothing new, but cliches are cliches because they work.
Likable and energetic, basically artificial, and quite a bit of fun.
By the end ... we're wishing the lot of them would either overdose or go to bed.
Washington Post
Top Critic
Audience Reviews for Groove
½
A perennial favorite, I gave this one another look recently, as I've apparently been on a nostalgic kick for the late '90s/early '2000s, and I have to say that I still love this one every bit as much as I did back then. I say this as someone who loved dance music but never had any interest in being part of that scene, this is a really fun ensemble piece that follows a disparate group of people through a rave, all brought together by their love of the music. The only thing that is distracting now is that the cop who wanders through is played by the guy who has now come to fame as Ron Swanson on Parks & Recreation on NBC, so it's hard not to be taken out of the movie by that. Highly recommended.
Bill Bryant
This movie to me was amazing, maybe poorly shot, but it showed all the positives of raving. Instead of all the negativity that is portrayed. Since I am apart of the rave scene I have a higher opinion of this movie, even my dad thought it was a good movie. Also, it was amazing that it was shot in San Francisco, and it showed the beauty of the city. Maybe real raves now a days arent as pure in music and unity as they use to be, but for sure the movie shows what raves can be.
Jessica Hernandez
½
Being a part of the rave scene I guess I have a soft spot for these types of movies. The only problem I had with this was that the rave shown in this movie is nowhere near what parties are like now.
Sydney Spangle
Groove Quotes
There are no approved quotes yet for this movie.
Discussion Forum
Discuss Groove on our Movie forum!