Hadashi no Gen (Barefoot Gen)
(1983)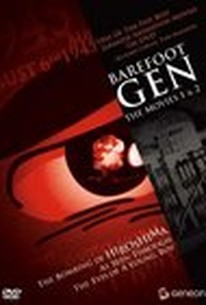 Movie Info
Based on the acclaimed graphic novel by artist Keiji Nakazawa, Barefoot Gen is an animated drama about a family's struggle to survive in Japan during the waning days of World War II. The family's patriarch has run afoul of the local government due to his opposition to the war. The government begins to deprive the family of life's little luxuries, and its necessities. The hardships they suffer through are put into perspective by the atomic bombing of Hiroshima by Allied forces. The family's six-year-old son, Gen, who has lived with the reality of the war nearly his entire life, provides the center of this animated drama. ~ Perry Seibert, Rovi
Critic Reviews for Hadashi no Gen (Barefoot Gen)
Audience Reviews for Hadashi no Gen (Barefoot Gen)
½
Based on the semi-autobiographical manga series by Hiroshima survivor Keiji Nakazawa, 'Barefoot Gen' chronicles the story of a six-year-old boy named Gen and his family as they deal with the aftermath of the atomic bombing of their hometown Hiroshima. As with 'Grave of the Fireflies' (a film this is often compared to due to similar subject manner), the film is a powerful anti-war story that displays the devastating effects of war. However in this movies case, it gives a very unflinchingly disturbing portrayal of the horrific effects the atomic bomb had on the unsuspecting population of Hiroshima. The film's Hiroshima bombing sequence shows the apocalyptic horrors of people burning away and being horribly disfigured due to burns or shrapnel. This sequence alone shows that the film holds no punches when it comes to presenting the very real suffering caused by the bomb from the disfiguring burns to the slow and painfully fatal effects of radiation poisoning. This film is not light viewing by any means. In a flowing episodic format, the film follows Gen's life before the bombing and his struggles to survive in the aftermath. Gen is your typical six-year-old boy: playful, rambunctious, naive but also loyal to his family and determined. Gen forms the emotional center of the film and his optimistic nature guides the audience through the horrors of the post-bomb Hiroshima wasteland and prevents the film from being a one-note guilt trip. Despite all the incomprehensible horrors and hardships presented throughout the film, the film still manages to find a uplifting and hopeful ending without seeming contrived. The movie is a masterpiece by many respects from the emotionally hard-hitting story to the relatable characters, the surreal and realistic portrayal of the atomic bombs effects, and dialogue that feels unscripted. However, the only significant drawback to the film is the animation. The movie was made in 1983 and while the animation was great for the time, it certainly hasn't aged well. The character are designed in a caricaturist fashion and the animation can be quite crude at times, similar to the animation in 'Castle of Cagliostro'. Due to the dated animation, the Studio Ghibli 'Grave of the Fireflies' ends up being the more artistically accomplished work, but this shouldn't alienate people from seeing film (the strength of the narrative and characters alone elevates the film above it's dated animation). This movie is a very underrated masterpiece and important viewing to anybody who wishes to learn of the full extent of the horrors inflicted by the nuclear bomb. It's a brutally honest picture of the horrors of warfare and a very intimate story of a boy trying to make the best out of seemingly hopeless situation.
Christopher Heim
Super Reviewer
Hadashi no Gen (Barefoot Gen) Quotes
There are no approved quotes yet for this movie.