Haeundae (Tsunami) (Tidal Wave)
(2009)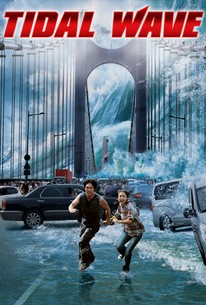 AUDIENCE SCORE
Critic Consensus: No consensus yet.
Haeundae (Tsunami) (Tidal Wave) Photos
Movie Info
A marine biologist races to warn Korean beachgoers that a massive tsunami is headed for Haeundae, and discovers that he has a daughter he never knew about when he attempts to alert his ex-wife to the danger. ~ Jason Buchanan, Rovi
Critic Reviews for Haeundae (Tsunami) (Tidal Wave)
All Critics (3) | Fresh (0) | Rotten (3)
(Je-gyun Yun's) epic, silly tidal-wave melodrama follows the template of the Western disaster opus to the letter.
... if this South Korean blockbuster... has anything to teach us, it's that the only thing cheesier than American disaster flicks is foreign disaster flicks.
Audience Reviews for Haeundae (Tsunami) (Tidal Wave)
Korean made disaster flick about an impending Tsunami which is to strike the sunny coastal city of Busan with most unaware except for a determined geoliogist. It has all the features of a successful disaster blockbuster: human drama, likable characters and awesome special effects. The first hour is all about character development and the science behind the tsunami, which is all welcome and it manages to be entertaining and quite funny too. Then the tsunami hits and it looks brilliant and terrifying as it smashes into the city, one of the best tsunami scenes I've seen in a movie. Definitely one of the most enjoyable disaster films I've seen in a while.
½
I found this film really good at a disaster genre movie to come out of South Korea. This movie is a good alternative to the usual comedies and horrors movie that mostly come out of Korea. It also takes up some real life issues about tsunamies. The tidal wave doesn't enter the scene until over 70 minutes in, and at least 30 of those minutes could go. The story introduces a large cast of characters (and it's sometimes hard to figure out who's who), puts them in place in Busan, South Korea, and then unleashes the water. Probably the best scene is a large set piece on a bridge after the first wave has struck. A slacker survives the deluge, then is caught up in catastrophic events involving flying guy wires that snap loose from the bridge, falling vehicles, and finally a huge fireball. Imagine Chuck Jones directing WILE E. COYOTE IN HELL with the forces of water and gravity replacing the Road Runner.
Dean McKenna
Super Reviewer
I sure as hell thought this movie is much better than it had any right to be. It's much better than the insufferable, disaster (and I don't mean the genre) of a movie 2012. Part of the problem with 2012 is that they within 20 minutes, you're thrust into the world going to shit and with the amount of characters that movie had, I just didn't buy into it and I didn't really care if they lived or died. No one stood out in the 20 minutes they were given to establish their characters. Plus, they were all quite unlikeable and the only entertaining character is killed off really quickly. It doesn't help matters that 2012 is 160 minutes long, so 2 hours and 20 minutes of death and destruction is just overkill (pun intended). So at the end of the day 2012 is just a failure of a disaster movie. This movie, not so much. See this movie has a lot of characters...but guess what??? They're actually given time to stand out and flesh their characters out a little bit, so that when the shit hits the fan (or in this case the water) you actually care about them and you'd like to see them survive even though, in the back of your mind, you know not every one is going to survive. With that said, the characters in this movie are so wacky and over-the-top that it's actually a comedy for a good percentage of the movie. When the shit hits the fan, the movie falters a little bit since it gets a little bit too melodramatic, as korean films are wont to do sometimes, and every one of the main characters manages to have a little bit of closure with someone they had a conflict with before said character just got KILLED. That all felt a bit too convenient for me, but whatever. Another thing, I don't know if it's just me, but this movie felt a bit too exploitative using the actual 2004 tsunami as basis for the events that happened in this movie. Because the scientist in the movie was like "Dude...I warned you in 2004 and you didn't listen to me...so you better fucking listen to me 5 years later". I don't know, that just came off very exploitative. Maybe I'm just being too uppity or sensitive...what have you. But yea, this movie is pretty solid for the kind of movie it is. It's not a fantastic movie, but the movie is pretty funny for the first 80 minutes or so, then the movie sort of falters a bit with the melodrama and whatnot, but at least it's the perfect length for this type of movie and not THREE hours. Edit: Oh and I forgot, the special effects are decent. They're much better in 2012 and that's about the only thing that movie is better at than this one.
Jesse Ortega
Super Reviewer
Haeundae (Tsunami) (Tidal Wave) Quotes
There are no approved quotes yet for this movie.