Hands on a Hard Body
(1998)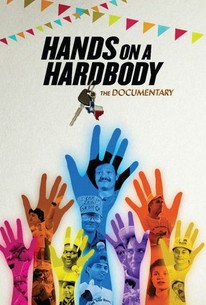 Hands on a Hard Body Photos
Movie Info
Twenty-four people congregate at a Longview car dealership with the same goal: winning a new, option-packed Nissan Hardbody pickup. To do so, they must keep their hands constantly on the vehicle, minus brief scheduled breaks, until all their competitors drop out from pain or fatigue. A bunch of people standing around for nearly four days may not sound like the most compelling subject matter for a documentary, but S.R. Bindler's masterful film easily kept a packed Texas Union audience riveted (and laughing hysterically) for a full 96 minutes. By letting the contestants tell their own stories before and during the event, Bindler transcended its inherent visual monotony with a steady focus on personalities.
News & Interviews for Hands on a Hard Body
Critic Reviews for Hands on a Hard Body
Audience Reviews for Hands on a Hard Body
Having watched this and Hard Gun within a couple weeks people may think, "Man, that Chris sure has gotten into hardcore gay pornography". Well, they're wrong. How do you like them apples? This is a great doc about a contest in Texas where the contestants need to remain standing with their hands on a Nissan truck until everyone else gives up or goes crazy. The filmmakers introduce you to this group of contestants individually and then follows them through the contest. What struck me most is the goodwill they had towards their competition while trying to outlast them. In today's world of reality TV it is almost expected that when you compete against someone you badmouth them, try and psych them out or just regard them as the enemy. This doc is certainly refreshing after all the crap competitions we see played before us on TV daily, and the people are a lot more relatable. Also, the way the filmmakers use the contest as a metaphor for life in general is great. An excellent documentary. Now I got to get back to my gay porn.
Christopher Brown
Super Reviewer
Oh, man. Where do I begin with this one? Just watch the trailer for a peek at S.R. Bindler's real life look at a group of Texans trying to win a truck by standing up for days with their hands on it. One 5-minute break is permitted every hour, and one 15-minute break every 6 hours for nearly 78 hours. A very entertaining and interesting social study on American materialism. Most people who will admit they watch Fox Reality TV for the instant thrill of watching people suffer may find this is even more addictive, because the people slowly deteriorate while descending into delirium and madness. As you're comfortably sitting in your domicile watching these poor exhausted souls struggling to sleep on their feet without falling over for a truck, you might find yourself asking, "How long would I last?"
El Hombre Invisible
Super Reviewer
Hands on a Hard Body Quotes
There are no approved quotes yet for this movie.