Goyôkiba: Oni no Hanzô yawahada koban (Hanzo the Razor: Who's Got the Gold?)
(1974)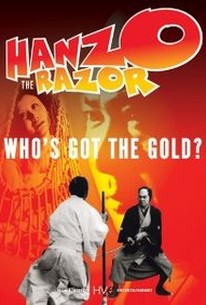 AUDIENCE SCORE
Critic Consensus: No consensus yet.
Movie Info
Orgying blind high priests, desperate royal wives, corruption, and conspiracy are all part of the mystery Hanzo "The Razor" Itami uncovers at the Shogunate treasury in the rousing climax of the Razor trilogy.
Critic Reviews for Goyôkiba: Oni no Hanzô yawahada koban (Hanzo the Razor: Who's Got the Gold?)
All Critics (1) | Fresh (0) | Rotten (1)
More outrageous than funny, the Hanzo trilogy is an unruly mix of bloody violence, soft porn and political intrigue, with a hero whose intentions are (largely) admirable, but whose modus operandi will repel any but the most hardened misogynists.
December 1, 2010
Audience Reviews for Goyôkiba: Oni no Hanzô yawahada koban (Hanzo the Razor: Who's Got the Gold?)
½
Hanzo is one cool dude. He picks up where Zatoichi leaves off. Japanese Cinema was wild back in the 1974 with Samurai. In this movie Hanzo is out to find who has the gold. The movie is completely over the top. If you haven?t tried a Hanzo Movie its time to try, he drives women wild with his torture. See the film and you will see why women faint at the sight of Hanzo Naked. 3 1/2 stars.
Bruce Bruce
Super Reviewer
½
Man, this is the type of movies that reminds me of why i love japanese cinema so much. They can make a dead-serious drama like Ugetsu and then completely switch gears and do something crazy as this. Once more, the surprise doesn't ends, as this, along with many other japanese explotation flicks of the period, were made before american and european explotation started to really get their fuel. And even so, a movie like Hanzo just takes the whole "tough-rude-ladiesman-policeman" thing and injects it with 200mg of extra radness. Yes, the whole values of the story are sexist, and everyone else seems to be always corrupt. But who cares, those scenes with Hanzo walking down the streets with funky music in the background are pure genius. Kazuo Koike (the creator of the original manga, and also author of Lady Snowblood and Lone Wolf and Cub) is one crazy man, in the best way possible of course. The second film in the trilogy would be my favorite, but this one is not bad at all, and very rich in characters actually. You just gotta love Katsu-Shin proclaiming how cool it would be to bang a female ghost.
Tsubaki Sanjuro
Super Reviewer
This is a strange one alright.
Patrick Dolan
Super Reviewer
Goyôkiba: Oni no Hanzô yawahada koban (Hanzo the Razor: Who's Got the Gold?) Quotes
There are no approved quotes yet for this movie.