Hard
(1998)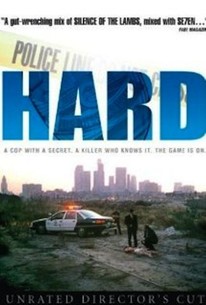 AUDIENCE SCORE
Critic Consensus: No consensus yet.
Movie Info
John W. Huckert directed this thriller that begins when bearded Jack (Malcolm Moorman) picks up a young desert hitchhiker. Homosexual homicide detective Ray Vates (Noel Palomaria) hangs out at a bar where his ex, Doug (Arron Zeffron), is the bartender. As a rookie, Ray gets a razzing from other cops, so he doesn't discuss his gay way of life. Meanwhile, with bodies of various hitchhikers surfacing, Ray and his partner Ellis (Charles Lanyer) investigate. Ray's encounter with Jack doesn't go well, since Ray is seduced by Jack, who confesses to the killings but then leaves Ray handcuffed to the bed. It's an awkward situation, since Ray must "out" himself so he won't be viewed as a suspect. Homophobic reactions from the other cops (Ellis excepted) eliminates any possibility of police back-up during the final horrific showdown at an abandoned theater. Shown at the 1998 San Francisco Lesbian & Gay Festival. ~ Bhob Stewart, Rovi
Critic Reviews for Hard
All Critics (2) | Fresh (0) | Rotten (2)
When a film sinks to the level of making jokes about pedophilic rape, you know it's in big trouble ... it's only saving grace is that it's sometimes laughably bad.
Audience Reviews for Hard
A cop with a secret. A killer who knows it. The game is on.
A queasy, sick, bordering on exploitative film obviously made on the cheap, Hard benefits from two excellent lead performances, an intriguing and original concept, some stunningly framed sequences and an imaginative story.
Ray, a closeted cop (played with verve by Noel Palomaria), struggles to solve the case of a serial killer who brutally murders male hustlers. With only his detective partner any help, he battles against prejudice and intolerance in his department who dismiss the killings as 'misdemeanour' offences. Matters become more complicated when he begins a dangerous affair with Jack (a hugely charismatic and creepy Malcolm Moorman), who he soon discovers is the man responsible for the murders.
Hard is far more interesting than your average police procedural. A great deal of care seems to have been taken to make the film scientifically and psychologically sound, and the heavy blood effects, semi-explicit sex scenes and sexual dialogue definitely make this stand out. In addition, there's a pretty damn good music score and solid camera work. Worth a look if you can find it.
(Review based on the unrated version of the film that was screened at festivals and which was eventually released as a Special Edition DVD.)
Daniel Parsons
Super Reviewer
Hard Quotes
There are no approved quotes yet for this movie.